Last Updated on May 13, 2023 by Samuel Franklin
Cookie Run Kingdom Tier List – Best Cookies
Our Cookie Run Kingdom tier list will help players to develop the best cookies team possible from their available pool of sweet biscuit heroes for both PvE and PvP content. With a large number of cookies to unlock and develop the abundance of choice can often create analysis paralysis for new and even experienced players as they are unsure which heroes to focus investing their limited game resources. With this tier list you'll be able to build a competitive team across game modes and also have confidence that the time and EXP Star Jelly stock investment from your personalised cookie kingdom will pay dividends in the long run for your Cookie Run Kingdom account.
In addition to the core list of cookies on an individual scale this guide will help you develop the best cookies team with a number of tips and considerations when deciding which heroes will fight on your behalf across the hundreds of game campaign story stages and other content. As all cookie heroes in Cookie Run Kingdom are included below this list will be useful regardless of your current account progression and preferences.
Cookie Run Kingdom Best Cookies Guide
While it can be easy for players to visit a Cookie Run Kingdom tier list such as this one and select the highest ranked cookies from their available pool of heroes players still need a solid understanding of the game mechanics to maximise their cookies team power level. When reading the cookie tier list below to design your best cookies team in Cookie Run Kingdom players should ensure that they consider the following specific to their account:
Team Composition: Creating a team full of the best healing cookie heroes will never be an effective strategy even if they are all highly ranked heroes. Players should ensure that any team they create is sufficiently balanced across hero types and position preferences even if that balance requires players to utilise cookies from a slightly lower tier as you'll be better equipped to deal with the diverse range of enemies that Cookie Run Kingdom offers. A balanced team will typically involve 1 tank and 1 healer with the remaining team slots filled primarily with high damage heroes or one utility hero if you have a high tier one available.
Content (PvE or PvP): Like other hero collecting fighting games PvE and PvP have different cookie hero needs to create an effective fighting team. While there is some overlap for the truly powerful heroes players will need to consider the type of content they are focusing on and also the specific challenges. PvE for example also has story, cookie alliance, events, guild bosses and several difficulty mode variants that might require some team adjustment. PvE content is generally longer which means healing and survivability are critical while PvP favours aggressive damage focused cookies to end the battle quickly which means the Cookie Run Kingdom PvP tier list prioritises damage output.
Game Funds: While free to play players can still experience most of what Cookie Kingdom has available your choice of free to play or playing player will impact the best cookies team you can develop. While a paying player can generally acquire a team full of high ranked heroes a free player will want to aim lower on the overall tier list and may need to commit to investing into a lower tier hero than a paying player would. Free to play players will also need to build their team around the powerful heroes they can obtain to ensure they are reaching their maximum potential even if you may prefer another hero aesthetically.
Other Factors: Other minor factors to consider when developing your team include cookie bonds that provide a stat boost based on your team selections, the availability of toppings you have to boost heroes, the individual promotion level of each hero given this provides a boost to their stats and the special treasures you have collected that each provide passive unique benefits. Noting that toppings, promotions and treasures in particular have an element of luck to acquiring them.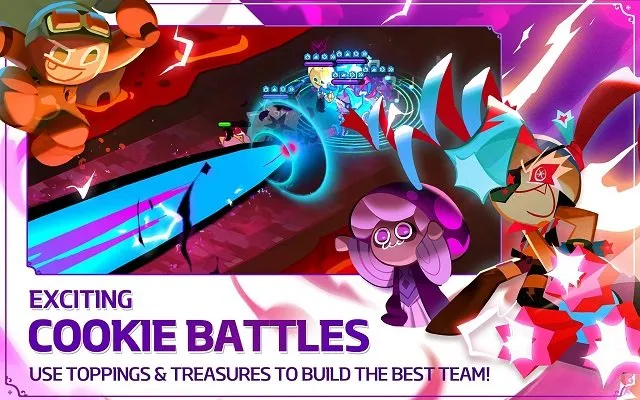 Cookie Run Kingdom Tier List – Ranking Factors
The following factors have been included in the tier list rankings of Cookie Run Kingdom cookies below.
Base Stats/Skills: The core of hero strength in Cookie Run Kingdom and similar games on the market will be your cookie hero stats and skills. Generally the rarer a hero the higher their HP, ATK, DEF, CRIT % statistics will be initially alongside their stat growth with this also impacted by their intended game role. A defence front hero such as Strawberry Cookie has significantly more HP than an ambush middle character like Chili Pepper Cookie for example. Each cookie also has a specific skill to consider with some being more effective at their intended purposes either because the values are higher on these talents inherently or the nature of the attack has greater effectiveness in game play. Strawberry Cookie for example has a reasonable strong powerful area of effect attack for a defence hero but the range of this attack is tiny and thus requires careful timing to ensure there are enemies in range for this attack to be useful at all. For this tier list heroes with higher base stats and skills that are offer greater power or utility to the team are ranked higher.
Flexibility: With a wealth of different content challenges on offer in Cookie Run Kingdom having a hero that is flexible across content types can be invaluable as it allows you to achieve success with less overall resources invested into your account. Cookies that are effective against multiple types of game content are ranked higher accordingly.
Role: As a balanced team is important to your overall cookie team strength this tier list has been designed by comparing cookies within the same roles to highlight the best in each class type. While a healing character does not deal the level of damage as an attacking focused character this doesn't mean they are not a strong hero for your team.
Rarity: Rarity has had a minor consideration in this tier list creation with heroes that perform above their expectations for their rarity given a small boost in overall tier rank. For example a common hero that performs comparable to a rare or epic cookie will be ranked higher given the relative ease of acquiring them while a hero that is weak considering their rarity will be ranked lower.
Cookie Run Kingdom Tier List – Rankings
With the factors above the following tier list ratings have been assigned to each of the Cookie Run Kingdom cookies available, the following tier ratings are applicable:
S Tier: A powerhouse cookie that fulfils their role to the fullest potential. Heroes in this tier have deadly skills, fantastic base stats and are flexible in a number of team compositions regardless of the content you are trying to overcome.
A Tier: A powerful cookie hero that is a great asset to any team composition and is one of the best (although not the best) at their role. Given the difficulty of acquiring many S tier heroes this is likely the tier of cookie hero a free to play player will strive for.
B Tier: A character that can fit into the right team although some element of their character design is lacking compared to the S and A tier options for the same role. This could be weaker stat bases or stat growth or a skill that simply isn't as effective as other options.
C Tier: C tier cookie heroes fill niche roles that can work with some effort (such as careful manual activation of abilities) or are well suited to counter a particular piece of game content. In general though these are not worth long term investment of your account resources.
D Tier: The worst cookie characters available that you'll only use when you don't have another suitable hero for that role as they have few redeeming qualities compared to their peers.
The tier list below is sorted by PvE ranking first and then PvP from S to D tier based on the criteria noted above. Ratings are heavily influenced based on the core game modes of world exploration (PvE) and Kingdom Arena (PvP) with a smaller consideration for the remaining game mode content.
| Cookie | Rating (PvE) | Rating (PvP) | Rarity | Type | Position |
| --- | --- | --- | --- | --- | --- |
| Sherbet | S | S | Super Epic | Ranged | Middle |
| Wildberry | S | S | Epic | Defence | Front |
| Pure Vanilla | S | S | Ancient | Healing | Rear |
| Black Pearl | S | S | Legendary | Ambush | Middle |
| Captain Caviar | S | A | Epic | Bomber | Middle |
| Schwarzwälder (Brute) | S | A | Epic | Charge | Front |
| Cotton | S | A | Epic | Support | Rear |
| Eclair | S | A | Epic | Support | Middle |
| Moonlight | A | S | Legendary | Magic | Middle |
| Hollyberry | A | S | Ancient | Defence | Front |
| Blueberry Pie | A | S | Epic | Magic | Middle |
| Werewolf | A | S | Epic | Charge | Front |
| Crunchy Chip | A | S | Epic | Charge | Front |
| Dark Cacao | A | S | Ancient | Charge | Front |
| Financier | A | S | Epic | Defence | Front |
| Milky Way | A | S | Epic | Charge | Front |
| Squid Ink | A | S | Epic | Magic | Middle |
| Cream Puff | A | S | Epic | Support | Rear |
| Frost Queen | A | S | Legendary | Magic | Middle |
| Vampire | A | S | Epic | Ambush | Rear |
| Oyster | A | S | Super Epic | Support | Rear |
| Rye | A | S | Epic | Ranged | Rear |
| BTS (all) | A | S | Special | BTS | Rear |
| Herb | A | S | Epic | Healing | Rear |
| Pumpkin Pie | A | A | Epic | Magic | Middle |
| Espresso Cookie | A | A | Epic | Magic | Middle |
| Carol | A | A | Epic | Healing | Rear |
| Pinecone | A | A | Epic | Bomber | Front |
| Cream Unicorn | A | A | Epic | Healing | Rear |
| Pomegranate | A | A | Epic | Support | Middle |
| Clotted Cream | A | A | Super Epic | Magic | Middle |
| Purple Yam | A | A | Epic | Charge | Front |
| Sea Fairy | A | B | Legendary | Bomber | Middle |
| Licorice | A | B | Epic | Magic | Middle |
| Affogato | A | B | Epic | Bomber | Middle |
| Parfait | A | B | Epic | Support | Rear |
| Macaron | A | B | Epic | Magic | Middle |
| Prophet | B | S | Epic | Support | Rear |
| Caramel Arrow | B | A | Epic | Ranged | Front |
| Sorbet Shark | B | A | Epic | Ambush | Middle |
| Strawberry Crepe | B | B | Epic | Defence | Front |
| Red Velvet | B | C | Epic | Charge | Front |
| Cherry Blossom | B | C | Epic | Ambush | Rear |
| Dark Choco | B | C | Epic | Charge | Front |
| Milk | B | C | Epic | Defence | Front |
| Tiger Lily | B | C | Epic | Ranged | Rear |
| Moon Rabbit | B | C | Epic | Defence | Front |
| Snow Sugar | B | C | Epic | Magic | Middle |
| Kumiho | B | C | Epic | Charge | Front |
| Black Raisin | B | C | Epic | Ambush | Middle |
| Twizzly Gummy | B | D | Epic | Ranged | Rear |
| Sparkling | B | D | Epic | Healing | Rear |
| Madeleine | C | B | Epic | Defence | Front |
| Tea Knight | C | B | Epic | Charge | Front |
| Latte | C | C | Epic | Magic | Middle |
| Candy Diver | C | C | Epic | Support | Rear |
| Poison Mushroom | C | C | Epic | Bomber | Middle |
| Almond | C | C | Epic | Support | Rear |
| Pastry | C | C | Epic | Ranged | Rear |
| Lilac | C | C | Epic | Support | Middle |
| Mint Choco | C | C | Epic | Support | Rear |
| Mango | C | D | Epic | Magic | Middle |
| Mala Sauce | C | D | Epic | Charge | Front |
| Raspberry | C | D | Epic | Charge | Front |
| Princess | C | D | Rare | Charge | Front |
| Custard Cookie III | C | D | Rare | Healing | Rear |
| Blackberry | C | D | Rare | Magic | Rear |
| GingerBrave | D | C | Common | Charge | Front |
| Cherry | D | D | Rare | Bomber | Rear |
| Adventurer | D | D | Rare | Ambush | Middle |
| Sonic | D | D | Special | Ambush | Middle |
| Tails | D | D | Special | Ambush | Middle |
| Knight | D | D | Rare | Defence | Front |
| Avocado | D | D | Rare | Defence | Front |
| Carrot | D | D | Rare | Support | Middle |
| Wizard | D | D | Common | Magic | Middle |
| Ninja | D | D | Common | Ambush | Middle |
| Chili Pepper | D | D | Epic | Ambush | Middle |
| Fig | D | D | Epic | Support | Middle |
| Pancake | D | D | Rare | Ambush | Rear |
| Devil | D | D | Rare | Magic | Middle |
| Clover | D | D | Rare | Support | Rear |
| Beet | D | D | Common | Ranged | Rear |
| Alchemist | D | D | Rare | Bomber | Middle |
| Onion | D | D | Rare | Support | Middle |
| Gumball | D | D | Rare | Bomber | Rear |
| Strawberry | D | D | Common | Defence | Front |
| Muscle | D | D | Common | Charge | Front |
| Angel | D | D | Common | Healing | Rear |