Last Updated on July 5, 2022 by Samuel Franklin
MapleStory Best Inner Ability Guide For All Classes
The MapleStory inner ability mechanic is an important part of your progression with the best inner ability providing significant damage and utility to your class. Obtaining the ideal roll from this randomised mechanic though can be a long journey to reach legendary but well worth the investment for those wanting to min-max their damage output.
While inner ability in MapleStory won't offer the boost that a high quality weapon, emblem or secondary potential can it is still an important optimisation step for your account and given it uses a separate game currency entirely (honour) there is no reason not to understand what the best option for your class is and how to get legendary inner ability for your account.
In this MapleStory inner ability guide we'll cover what the system is, how to unlock it, how to earn honour experience points, how to get legendary ability and the best inner ability for each MapleStory class. For those that want all the math behind this system I recommend reading this guide in conjunction with the wiki.
For further min-maxing of your MapleStory characters for damage output we also have guides on the best link skills, medals, titles, totems, Legion and how to get the pocket slot.
MapleStory Inner Ability Overview
The inner ability mechanic provides 3 lines of stats that are passively provided to the player and are unique to each of your characters. They are displayed on your characters stat window and can also be re-rolled there which draws from a pool of various stats.
Given some of the available stats on offer the inner ability is a key piece of mid to late game progression for your main character or bossing mules. These powerful stats include the likes of attack speed, boss damage, critical rate, cooldown skip, attack speed, buff duration and passive skills boost. Just like the potential system in MapleStory your inner ability has different ranks that impact how high a particular stat can go.
From weakest to strongest this is rare, epic, unique and legendary which have a different range of possible stat rolls. In order to reroll your inner ability players use honour experience (minimum 100) which changes all the current lines of stats and has a chance of increasing keeping the current inner ability rank (note that previously it was possible to decrease your inner ability rank when rerolling and you could lock the rank separately). Players can lock individual stat lines that they do not want to reroll allowing you to preserve an ideal line that you currently have and this will automatically lock your rank. Locking significantly increases the cost of rerolling Honour though and can go as high as 16,000 at legendary rank with 2 lines locked.

MapleStory How To Unlock Inner Ability
MapleStory inner ability is available from level 50 onwards once players accept "The Eye Opener" quest from the light bulb Maple Mailbox on the left of their screen (shown above). Unlocking this as soon as you reach level 50 is often worth it so that you can slowly start rolling with any accumulated honour experience for stat or utility boosts and ultimately tier up to legendary.
It is recommended that players roll up to epic tier after unlocking inner ability and try to obtain some Meso or drop rate boosts for a solid passive benefit while continuing to level up. This is because your other options at this early stage (e.g. flat stat increases) simply don't have a significant benefit and you are unlikely to have enough experience points to reroll enough times for higher tier lines yet.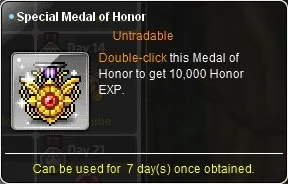 MapleStory How To Earn Honour Experience Points
Inner ability uses a unique currency of honour experience that is earned for various activities in game that means players will earn the bulk of their experience points passively in MapleStory by:
Defeating monsters within your level range and picking up dropped medals
Levelling up your character (from level 49 onwards)
Defeating MapleStory bosses
Purchasing event specific Medal of Honour (usually in event stores)
Purchasing Medal of Honours from Dojo and Ursus
Claiming Day 6 from the Fairy Bros Daily Gift
Finishing Blockbuster story content (such as Heroes of Maple)
Finishing Monster Park on Thursdays (or Saturdays at a lower chance)
Finishing Pollo and Fritto portals for bounty hunter pouches
For the most part players will earn the bulk of their experience through regular training and bossing. When you are at the late game stage of progression and looking to obtain your best in slot legendary inner ability players can start to focus on the more active methods like event shops which have other more useful rewards for your progression prior to this point.

MapleStory How To Get Legendary Inner Ability
Your ultimate objective when it comes to MapleStory inner ability is reaching the legendary tier and then pairing that with as many optimal lines for your class as possible. Given the low odds (1% chance from unique) and significant honour experience required to reach this point there are some common recommended methods to save on the investment and time required.

This primary revolves around the use of Miracle Circulators to guarantee high rolls on your second or third lines as even when you have a legendary tier your second and third lines will actually role at rare level 80% of the time, epic 15% of the time and unique 5% of the time. While Miracle Circulators do not change these odds they guarantee that any line rolled will be at the maximum value possible. Miracle Circulators can be obtained from Fairy Bros (Day 18), Cash Shop and events while Reboot players can purchase them for Mesos. Note that MapleStory occasionally does 50% off honour rerolls that should be used where possible although there have been stretches of years between these events in the past. These steps should be followed in exact order:
Use your honour experience (do not lock anything) until you rank up to the legendary tier. You can use Miracle Circulators for the jump from unique to legendary as it changes your rank up odds from 1% to 10%. However, given honour rerolls even at unique tier are fairly reasonable in cost and you can no longer go down in ranks when rerolling most players will opt for the honour experience path.
*Use Miracle Circulators until you get an ideal second or third line that is at least unique tier. You can tell if you have unique tier by using the information at the bottom of this page or with reference to the colour of that inner ability line. If your first line rolls ideal during this stage you can strongly consider stopping depending on your access to Miracle Circulators.
Lock your MapleStory inner ability tier and the perfect unique line that you have rolled to obtain your best in slot on the first line via Honour experience rerolling.
Any remaining honour experience can be used to try roll something useful on your final line although this will be significantly expensive.
*For the average MapleStory player that doesn't expect to chase maximum level and defeat the hardest bosses that the game has to offer at this stage you can also opt to perform the following. While these will leave your character slightly weaker and isn't the perfect min-max approach it's materially easier to obtain:
Only use Miracle Circulators (or just roll with honour experience and locked tier) until you get an ideal top line and then roll the remaining lines with honour experience as you attempt to get anything useful.
MapleStory Best Inner Ability For All Classes
The best inner ability is different for each MapleStory class due to the way their damage formula works and the need for specific boosts to maximise damage per second which might rely on this mechanic to reach the attack speed cap. Note that the first line in the below tables is the most important to acquire particularly for attack speed or passive skill level as these are only available on the legendary tier first line. The other lines can be selected based on what you roll using the method described above and for most classes have marginal differences in terms of power. All values shown are the maximum possible for that line.
For example using this inner ability guide table below if you want an Adele inner ability you'll want to prioritise 20% cooldown skip followed by critical and flat attack. A Kanna inner ability in comparison benefits the most from 20% boss damage but can also benefit from critical or flat magic attack.
Archers Best Inner Ability Tier List
| Class | 1st Line | Other Lines | Other Lines | Other Lines |
| --- | --- | --- | --- | --- |
| Bowmaster | 20% Boss Dmg | 8% Damage to Inflicted/Debuffed | 20% Critical | |
| Kain | +1 Passive Skills | 10% Boss Dmg | 20% Critical | |
| Marksman | +1 Attack Speed | 10% Boss Dmg | 20% Critical | |
| Mercedes | +1 Attack Speed | 10% Boss Dmg | 20% Critical | |
| Pathfinder | 20% Boss Dmg | 8% Damage to Inflicted/Debuffed | 20% Critical | |
| Wild Hunter | 20% Boss Dmg | 8% Damage to Inflicted/Debuffed | 20% Critical | |
| Wind Archer | 20% Boss Dmg | 8% Damage to Inflicted/Debuffed | 20% Critical | |
Mages Best Inner Ability Tier List
Class
1st Line
Other Lines
Other Lines
Other Lines
Battle Mage
20% Boss Dmg
8% Damage to Inflicted/Debuffed
20% Critical
21 Magic Attack
Beast Tamer
20% Cooldown Skip
10% Boss Dmg
8% Damage to Inflicted/Debuffed
Bishop
50% Buff Duration
10% Boss Dmg
8% Damage to Inflicted/Debuffed
21 Magic Attack
Blaze Wizard
20% Boss Dmg
8% Damage to Inflicted/Debuffed
20% Critical
38% Buff Duration
Evan
+1 Attack Speed
10% Boss Dmg
20% Critical
8% Damage to Inflicted/Debuffed
Fire Poison
+1 Attack Speed
38% Buff Duration
20% Critical
8% Damage to Inflicted/Debuffed
Ice Lightning
+1 Attack Speed
38% Buff Duration
20% Critical
8% Damage to Inflicted/Debuffed
Illium
+1 Attack Speed
10% Boss Dmg
20% Critical
8% Damage to Inflicted/Debuffed
Kanna
20% Boss Dmg
8% Damage to Inflicted/Debuffed
20% Critical
10% Cooldown Skip
Kinesis
+1 Attack Speed
10% Boss Dmg
20% Critical
8% Damage to Inflicted/Debuffed
Lara
+1 Passive Skills
10% Boss Dmg
20% Critical
8% Damage to Inflicted/Debuffed
Luminous
+1 Attack Speed
38% Buff Duration
20% Critical
10% Boss Dmg
Pirates Best Inner Ability Tier List
| Class | 1st Line | Other Lines | Other Lines | Other Lines |
| --- | --- | --- | --- | --- |
| Angelic Buster | +1 Attack Speed | 10% Boss Dmg | 20% Critical | 8% Damage to Inflicted/Debuffed |
| Ark | +1 Passive Skills | 10% Cooldown Skip | 10% Boss Dmg | |
| Buccaneer | 20% Boss Dmg | 8% Damage to Inflicted/Debuffed | 20% Critical | 21 Attack |
| Cannoneer | +1 Attack Speed | 10% Boss Dmg | 20% Critical | 8% Damage to Inflicted/Debuffed |
| Corsair | 20% Boss Dmg | 8% Damage to Inflicted/Debuffed | 20% Critical | 21 Attack |
| Jett | 20% Cooldown Skip | 10% Boss Dmg | 8% Damage to Inflicted/Debuffed | |
| Mechanic | +1 Passive Skills | 10% Boss Dmg | 8% Damage to Inflicted/Debuffed | |
| Shade | +1 Attack Speed | 10% Boss Dmg | 20% Critical | 8% Damage to Inflicted/Debuffed |
| Thunder Breaker | 20% Boss Dmg | 8% Damage to Inflicted/Debuffed | 20% Critical | 21 Attack |
Thieves Best Inner Ability Tier List
| Class | 1st Line | Other Lines | Other Lines | Other Lines |
| --- | --- | --- | --- | --- |
| Cadena | 20% Cooldown Skip | 10% Boss Dmg | 8% Damage to Inflicted/Debuffed | 21 Attack |
| Dual Blade | 20% Boss Dmg | 8% Damage to Inflicted/Debuffed | 20% Critical | 38% Buff Duration |
| Ho Young | +1 Passive Skills | 10% Boss Dmg | 8% Damage to Inflicted/Debuffed | |
| Night Lord | 20% Boss Dmg | 8% Damage to Inflicted/Debuffed | 20% Critical | 21 Attack |
| Night Walker | 20% Boss Dmg | 8% Damage to Inflicted/Debuffed | 20% Critical | 21 Attack |
| Phantom | 20% Boss Dmg | 38% Buff Duration | 8% Damage to Inflicted/Debuffed | 21 Attack |
| Shadower | 20% Boss Dmg | 38% Buff Duration | 20% Critical | 10% Cooldown Skip |
| Xenon | +1 Attack Speed | 38% Buff Duration | 20% Critical | 10% Boss Dmg |
Warriors Best Inner Ability Tier List
| Class | 1st Line | Other Lines | Other Lines | Other Lines |
| --- | --- | --- | --- | --- |
| Aran | 20% Boss Dmg | 8% Damage to Inflicted/Debuffed | 20% Critical | 21 Attack |
| Adele | 20% Cooldown Skip | 10% Boss Dmg | 20% Critical | 8% Damage to Inflicted/Debuffed |
| Blaster | +1 Passive Skills | 10% Boss Dmg | 8% Damage to Inflicted/Debuffed | |
| Dark Knight | +1 Attack Speed | 38% Buff Duration | 10% Boss Dmg | |
| Dawn Warrior | 20% Boss Dmg | 8% Damage to Inflicted/Debuffed | 20% Critical | 21 Attack |
| Demon Avenger | +1 Attack Speed | 10% Cooldown Skip | 20% Critical | 10% Boss Dmg |
| Demon Slayer | 20% Boss Dmg | 10% Cooldown Skip | 8% Damage to Inflicted/Debuffed | |
| Hayato | 20% Boss Dmg | 8% Damage to Inflicted/Debuffed | 38% Buff Duration | 21 Attack |
| Hero | +1 Attack Speed | 10% Boss Dmg | 20% Critical | 8% Damage to Inflicted/Debuffed |
| Kaiser | +1 Attack Speed | 38% Buff Duration | 20% Critical | 10% Boss Dmg |
| Mihile | 20% Boss Dmg | 8% Damage to Inflicted/Debuffed | 20% Critical | 21 Attack |
| Paladin | +1 Attack Speed | 10% Boss Dmg | 20% Critical | 8% Damage to Inflicted/Debuffed |
| Zero | +1 Attack Speed | 10% Boss Dmg | 20% Critical | 8% Damage to Inflicted/Debuffed |