Last Updated on September 26, 2023 by Samuel Franklin
My Singing Monsters (MSM) Air Island Breeding Chart Guide
This Air Island breeding chart will guide you through completing the respective My Singing Monsters (MSM) island monster collection book. Serving as the third natural island in MSM players are likely to have a reasonably established account footing when unlocking this misty sky island which once again raises the bar in terms of challenge. Drawing from a similar pool as your first two game islands in My Singing Monsters the Air Island is instead focused on the natural element of Air and also the home of the Season of Love seasonal event. Leveraging your experience to date and high gold generation starting islands will see players able to quickly build up the foundations of island although unlocking all monsters is no small challenge.
This Air Island breeding guide is designed as a reference for players to complete the full monster collection and includes information on minimum level required, how to breed each monster, their linked elements and breeding time which will help you both plan out your breeding or can alert players to whether or not they've been successful by looking at breeding time after you start the process. In addition players will find multiple breeding recommendations so that you can select the breeding combination based on your currently available monsters although generally the first listed option is significantly more efficient to use.
The breeding guide for Air Island below includes a range of spoilers for that island and My Singing Monsters in general so players should beware before continuing if they prefer to discover breeding combinations for themselves. This page also assumes a general understanding of breeding mechanics which you can learn on our overview and breeding guide. For island specific guides to MSM visit our Plant Island, Cold Island, Water Island, Earth Island, Fire Haven, Fire Oasis, Light Island, Psychic Island, Faerie Island or Bone Island pages.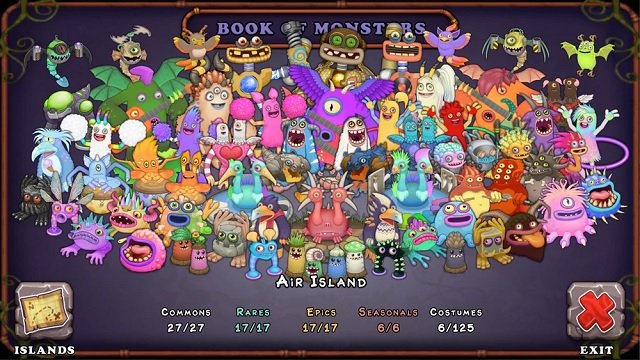 My Singing Monsters Air Island Overview
Air Island is detailed as an island of fun and partying that sits amongst the clouds and is just waiting for players to place monsters to dance and sing on the island. Featuring a Skylite Castle this island is also home to the festival known as the Season of Love that is based on the real world celebration of Valentine's Day and generally occurs around February each year as a result. This festival provides players the opportunity to obtain the heart themed Schmoochle who is just one of the many monsters for the Air Island location that have a common, rare and epic variation available.
In terms of other monsters to collect players will find 67 in total split across 27 common, 17 rare, 17 epic and 6 seasonal monsters that are further varied with 128 different costumes. Themed around the air element this island features no plant elements which limits monsters to earth, cold, water and air natural elements instead. Air Island is the third island available to players in My Singing Monsters with a cost of 50,000 that is ten times higher than the previous island unlock and as a result requires a well established account foundation of gold income from your other two islands to unlock.
Air Island Breeding Chart
The MSM Air Island breeding chart below features the full collection of indigenous monsters for players to complete their monster book collection. It includes all the common, rare, epic and seasonal monsters featured on Air Island with several combinations of breeding options below shown where they are applicable. This breeding combination order is presented from the most to least efficient combination (based on odds and time spent) for that monster so players should always use the top option if you have those monster parents available.
Like other islands in My Singing Monster specific monsters are limited to special events in game, this includes rare, epic and several other monsters that are each marked with an asterisk (*) where applicable and these should only be attempted when these events are active or can alternatively be sometimes purchased with premium currencies. The default and enhanced breeding times shown below are based on the base level breeding structure and the diamond upgrade that enhances this structure to reduce breeding time by 25%.
Monster
Required Level
Elements
Breed Time dd:hh:mm:ss (Default/Enhanced)
Breeding Combinations
Noggin
1
Earth
00:00:05 / 00:00:03
Purchase from Market or acquire from a breeding failure
Mammott
2
Cold
00:02:00 / 00:01:30
Purchase from Market or acquire from a breeding failure
Toe Jammer
4
Water
00:01:00 / 00:00:45
Purchase from Market or acquire from a breeding failure
Tweedle
4
Air
04:00:00 / 03:00:00
Purchase from Market or acquire from a breeding failure
Drumpler
7
Earth Cold
00:30:00 / 00:22:30
Noggin & Mammott
Fwog
7
Earth Water
00:30:00 / 00:22:30
Noggin & Toe Jammer
Maw
4
Water Cold
00:30:00 / 00:22:30
Toe Jammer & Mammott
Pango
7
Air Cold
08:00:00 / 06:00:00
Tweedle & Mammott
Quibble
7
Air Water
08:00:00 / 06:00:00
Tweedle & Toe Jammer
Cybop
7
Air Earth
08:00:00 / 06:00:00
Tweedle & Noggin
T-Rox
7
Earth Water Cold
08:00:00 / 06:00:00
Noggin & Maw
Toe Jammer & Drumpler
Mammott & Fwog
Congle
7
Air Water Cold
12:00:00 / 09:00:00
Tweedle & Maw
Toe Jammer & Pango
Mammott & Quibble
PomPom
7
Air Earth Cold
12:00:00 / 09:00:00
Tweedle & Drumpler
Noggin & Pango
Mammott & Cybop
Scups
7
Air Earth Water
12:00:00 / 09:00:00
Tweedle & Fwog
Nogging & Quibble
Toe Jammer & Cybop
Riff
7
Air Earth Water Cold
24:00:00 / 18:00:00
T-Rox and Tweedle
Scups & Mammott
Congle & Noggin
PomPom & Toe Jammer
Cybop & Maw
Quibble & Drumpler
Pango & Fwog
Reebro
9
Mech
01:12:00:00 / 01:03:00:00
Riff & T-Rox
Riff & Congle
Riff & Scups
Riff & PomPom
Wubbox
20
Electricity
N/A
Purchase from Market (Coins). Note that activating this monster requires other common monsters.
Schmoochle*
9
Season of Love
01:07:06:30 / 23:19:52
Tweedle & Riff
Hoola*
9
SummerSong
01:01:00:00 / 18:45:00
PomPom & Pango
Yawstrich
9
Mythical
01:04:00:00 / 21:00:00
Same as common monster above
Rare Noggin*
4
Earth
06:00:00 / 04:30:00
Any three element monster pairing where both parents have the Earth element.
Rare Mammott*
4
Cold
06:00:00 / 04:30:00
Any three element monster pairing where both parents have the Cold element.
Rare Toe Jammer*
4
Water
06:00:00 / 04:30:00
Any three element monster pairing where both parents have the Water element.
Rare Tweedle*
4
Air
06:00:00 / 04:30:00
 Any three element monster pairing where both parents have the Air element.
Rare Drumpler*
7
Earth Cold
01:07:30 / 00:50:37
Same as common monster above
Rare Fwog*
7
Earth Water
01:15:00 / 00:56:15
Same as common monster above
Rare Maw*
7
Water Cold
01:07:30 / 00:50:37
Same as common monster above
Rare Pango*
7
Air Cold
10:30:00 / 07:52:30
Same as common monster above
Rare Quibble*
7
Air Water
10:30:00 / 07:52:30
Same as common monster above
Rare Cybop*
7
Air Earth
10:30:00 / 07:52:30
Same as common monster above
Rare T-Rox*
7
Earth Water Cold
10:30:00 / 07:52:30
Same as common monster above
Rare Congle*
7
Air Water Cold
15:30:00 / 11:37:30
Same as common monster above
Rare PomPom*
7
Air Earth Cold
15:30:00 / 11:37:30
Same as common monster above
Rare Scups*
7
Air Earth Water
15:30:00 / 11:37:30
Same as common monster above
Rare Riff*
7
Air Earth Water Cold
01:06:30:00 / 22:52:30
Same as common monster above
Rare Reebro*
9
Mech
01:21:30:00 / 01:10:07:30
Same as common monster above
Rare Wubbox
20
Electricity
N/A
Purchase from Market (Starpower). Note that activating this monster requires other rare monsters.
Rare Schmoochle*
9
Season of Love
01:15:15:00 / 01:05:26:15
Same as common monster above
Rare Hoola*
9
SummerSong
01:07:45:00 / 23:48:45
Same as common monster above
Rare Yawstrich*
9
Mythical
01:11:00:00 / 01:02:15:00
Scups & T-Rox
Epic Noggin*
4
Earth
01:00:00 / 00:45:00
Riff & Drumpler
Epic Mammott*
4
Cold
05:00:00 / 03:45:00
Riff & Pango
Epic Toe Jammer*
4
Water
03:00:00 / 02:15:00
Riff & Maw
Epic Tweedle*
4
Air
11:00:00 / 08:15:00
Riff & Cybop
Epic Drumpler*
7
Earth Cold
15:00:00 / 11:45:00
PomPom & Fwog
Epic Fwog*
7
Earth Water
13:00:00 / 09:45:00
Scups & Pango
Epic Maw*
7
Water Cold
13:00:00 / 09:45:00
T-Rox & Quibble
Epic Pango*
7
Air Cold
01:03:00:00 / 20:15:00
Congle & Cybop
Epic Quibble*
7
Air Water
21:00:00 / 15:45:00
Scups & Maw
Epic Cybop*
7
Air Earth
23:00:00 / 17:15:00
Congle & Drumpler
Epic T-Rox*
7
Earth Water Cold
19:00:00 / 14:15:00
Congle & Fwog
Epic Congle*
7
Air Water Cold
23:00:00 / 17:15:00
Scups & Drumpler
Epic PomPom*
7
Air Earth Cold
01:03:00:00 / 20:15:00
T-Rox & Cybop
Epic Scups*
7
Air Earth Water
01:13:00:00 / 01:.03:45:00
PomPom & Maw
Epic Riff*
7
Air Earth Water Cold
01:15:00:00 / 01:05:15:00
PomPom & Quibble
Epic Reebro*
9
Mech
01:10:00:00 / 01:01:30:00
T-Rox & Pango
Epic Wubbox
20
Electricity
N/A
Purchase from Market (Diamonds). Note that activating this monster requires other epic monsters.
Epic Schmoochle*
9
Season of Love
22:15:00 / 16:40:00
Riff & Quibble
Epic Hoola*
9
SummerSong
21:20:00 / 16:00:00
Riff & Fwog
Parlsona
8
Legendary
08:00:00 / 06:00:00
Purchased for 100 Relics (egg)
Stoowarb
8
Legendary
08:00:00 / 06:00:00
Purchased for 100 Relics (egg)
Do
10
Dipsters
N/A
Purchase from Market (Keys). Note this cost varies based on island (3 Keys for Air Island)
Re
10
Dipsters
N/A
Purchase from Market (Keys). Note this cost varies based on island (3 Keys for Air Island)
Mi
10
Dipsters
N/A
Purchase from Market (Keys). Note this cost varies based on island (3 Keys for Air Island)
Fa
10
Dipsters
N/A
Purchase from Market (Keys). Note this cost varies based on island (3 Keys for Air Island)
Sol
10
Dipsters
N/A
Purchase from Market (Keys). Note this cost varies based on island (3 Keys for Air Island)
La
10
Dipsters
N/A
Purchase from Market (Keys). Note this cost varies based on island (3 Keys for Air Island)
Ti
10
Dipsters
N/A
Purchase from Market (Keys). Note this cost varies based on island (3 Keys for Air Island)