Last Updated on September 26, 2023 by Samuel Franklin
My Singing Monsters (MSM) Cold Island Breeding Chart Guide
Our Cold Island breeding chart for My Singing Monsters will help players complete their monster book for the second icy game island. While there are many similar monsters between this island and your first island the setting is in stark contrast with a cold area for players to build and develop with a slightly higher challenge than you've encountered before. With time players will be to collect all the monsters and perform the respective island song before moving onto the next island challenge with the gold coin generation from a happy group of monsters here.
This Cold Island breeding guide provides MSM players a reference to complete their collection for this island by providing a list of all the respective monsters, the minimum level to obtain them, how to obtain them (primarily breeding), their elements and associated Cold Island breeding times. It also includes all potential breeding combinations so that players can adjust their Cold Island breeding strategy based on the monsters they currently have available given some are restricted to particular events or specific game currency. With all this information players will be clear on how to breed Cold Island monsters like the Spunge, Thumpies, Bowgart and the many other common, rare or epic monsters of this ice themed area.
Given this is a breeding guide to Cold Island there are various spoilers for My Singing Monsters below. For broader breeding information players can refer to our full MSM breeding guide. For island specific guides to MSM visit our Plant Island, Air Island, Water Island, Earth Island, Fire Haven, Fire Oasis, Light Island, Psychic Island, Faerie Island or Bone Island pages.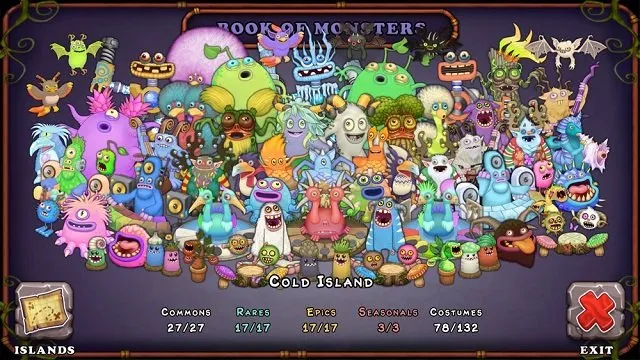 My Singing Monsters Cold Island Overview
Described as an island that sits under twinkling stars and the constant stream of freezing winds the Cold Island is one of the harsher locations in My Singing Monsters although players are able to turn the lonely destination into a thriving location with its own winter festival. Known as the Festival of Yay which is based on the real world Christmas this event is tied to the Yool monsters of this island while also unlocking various seasonal decorations, obstacles, costumes and an alternative island skin.
It is the second game island (first unlockable island) with a cold element theme that requires players to be both level 4 and spend 5,000 gold coins to unlock. In total players have 65 monsters to collect (27 common, 18 rare, 17 epic and 3 seasonals) and 136 related costumes for these cold themed monsters. None of these monsters contain the earth element with Cold Island instead focused on the natural elements of cold, water, plant and air with your Frozium Castle towering over the icy landscape.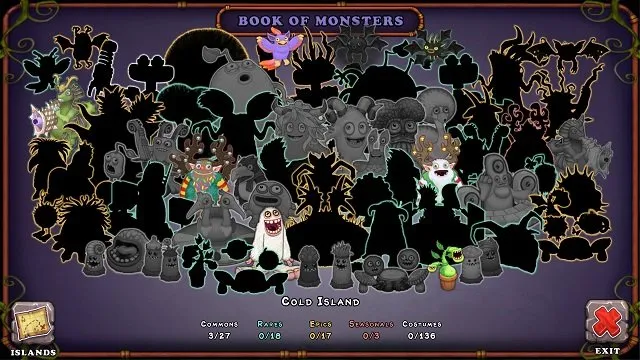 Cold Island Breeding Chart
The MSM Cold Island breeding chart below shows all of the indigenous monsters available to the island for players that are looking to complete the monster collection book, including all common, rare, epic and seasonal monsters. The breeding combinations are listed in order of most to least recommended based on the odds, parent availability and breeding times you'll have to go through for failed attempts. Players should be aware that all rare and epic variants of these Cold Island MSM monsters below are time limited to breeding during special events with other event limited monsters also noted. Any such monster that is impacted by special event occasions is marked with an asterisk (*).
Breeding times are split between default and enhanced (diamond upgrade that reduces time by 25%) and doesn't factor in other breed time reduction like the Festival of Yay event skin that provides a further 10% reduction. For players still struggling to complete their Cold Island monster collection you'll be able to purchase the below on a regular or rotating basis for starpower or premium diamonds to fill in gaps although there are generally better places to spend these hard earned currencies for most players.
Monster
Required Level
Elements
Breed Time dd:hh:mm:ss (Default/Enhanced)
Breeding Combinations
Mammott
2
Cold
00:02:00 / 00:01:30
Purchase from Market or acquire from a breeding failure
Toe Jammer
4
Water
00:01:00 / 00:00:45
Purchase from Market or acquire from a breeding failure
Potbelly
9
Plant
02:00:00 / 01:30:00
Purchase from Market or acquire from a breeding failure
Tweedle
4
Air
04:00:00 / 03:00:00
Purchase from Market or acquire from a breeding failure
Maw
4
Water Cold
00:30:00 / 00:22:30
Toe Jammer & Mammott
Furcorn
7
Plant Cold
08:00:00 / 06:00:00
Potbelly & Mammott
Oaktopus
9
Plant Water
08:00:00 / 06:00:00
Potbelly & Toe Jammer
Dandidoo
9
Air Plant
08:00:00 / 06:00:00
Tweedle & Potbelly
Pango
7
Air Cold
08:00:00 / 06:00:00
Tweedle & Mammott
Quibble
7
Air Water
08:00:00 / 06:00:00
Tweedle & Toe Jammer
Bowgart
9
Plant Water Cold
12:00:00 / 09:00:00
Potbelly & Maw
Mammott & Oaktopus
Toe Jammer & Furcorn
Spunge
9
Air Plant Water
12:00:00 / 09:00:00
Toe Jammer & Dandidoo
Potbelly & Quibble
Tweedle & Oaktopus
Thumpies
9
Air Plant Cold
12:00:00 / 09:00:00
Dandioo & Mammott
Pango & Potbelly
Furcorn & Tweedle
Congle
7
Air Water Cold
12:00:00 / 09:00:00
Tweedle & Maw
Toe Jammer & Pango
Mammott & Quibble
Deedge
9
Air Plant Water Cold
24:00:00 / 18:00:00
Thumpies & Toe Jammer
Spunge & Mammott
Congle & Potbelly
Bowgart & Tweedle
Dandioo & Maw
Quibble & Furcorn
Pango & Oaktopus
Grumpyre
9
Shadow
01:12:00:00 / 01:03:00:00
Deedge & Congle
Deedge & Bowgart
Deedge & Spunge
Deedge & Thumpies
Wubbox
20
Electricity
N/A
Purchase from Market (Coins). Note that activating this monster requires other common monsters.
Yool
9
Festival of Yay
01:12:00:00 / 01:03:00:00
Thumpies & Congle (during event or Festival of Yay)
Strombonin
9
Mythical
23:00:00 / 17:15:00
Spunge & Bowgart
Rare Mammott*
4
Cold
06:00:00 / 04:30:00
Any three element monster pairing where both parents have the Cold element.
Rare Toe Jammer*
4
Water
06:00:00 / 04:30:00
Any three element monster pairing where both parents have the Water element.
Rare Potbelly*
9
Plant
06:00:00 / 04:30:00
Any three element monster pairing where both parents have the Plant element.
Rare Tweedle*
4
Air
06:00:00 / 04:30:00
 Any three element monster pairing where both parents have the Air element.
Rare Maw*
7
Water Cold
01:07:30 / 00:50:37
Same as common monster above
Rare Furcorn*
9
Plant Cold
10:30:00 / 07:52:30
Same as common monster above
Rare Oaktopus*
9
Plant Water
10:30:00 / 07:52:30
Same as common monster above
Rare Dandidoo*
9
Air Plant
10:30:00 / 07:52:30
Same as common monster above
Rare Pango*
7
Air Cold
10:30:00 / 07:52:30
Same as common monster above
Rare Quibble*
7
Air Water
10:30:00 / 07:52:30
Same as common monster above
Rare Bowgart*
9
Plant Water Cold
15:30:00 / 11:37:30
Same as common monster above
Rare Spunge*
9
Air Plant Water
15:30:00 / 11:37:30
Same as common monster above
Rare Thumpies*
9
Air Plant Cold
15:30:00 / 11:37:30
Same as common monster above
Rare Congle*
7
Air Water Cold
15:30:00 / 11:37:30
Same as common monster above
Rare Deedge*
9
Air Plant Water Cold
01:06:30:00 / 22:52:30
Same as common monster above
Rare Grumpyre*
9
Shadow
01:21:30:00 / 01:10:07:30
Same as common monster above
Rare Wubbox
20
Electricity
N/A
Purchase from Market (Starpower). Note that activating this monster requires other rare monsters.
Rare Yool*
9
Festival of Yay
01:21:30:00 / 01:10:07:30
Thumpies & Congle (during event or Festival of Yay).

If players already have a common Yool you can breed it with any other monster for a better chance of a Rare Yool.

Rare Strombonin*
9
Mythical
01:04:45:00 / 21:33:45
Same as common monster above
Epic Mammott*
4
Cold
05:00:00 / 03:45:00
Deedge & Maw
Epic Toe Jammer*
4
Water
03:00:00 / 02:15:00
Deedge & Quibble
Epic Potbelly*
9
Plant
09:00:00 / 06:45:00
Deedge & Oaktopus
Epic Tweedle*
4
Air
11:00:00 / 08:15:00
Deedge & Dandidoo
Epic Maw*
7
Water Cold
13:00:00 / 09:45:00
Spunge & Furcorn
Epic Furcorn*
9
Plant Cold
17:00:00 / 12:45:00
Spunge & Maw
Epic Oaktopus*
9
Plant Water
01:07:00:00 / 23:15:00
Spunge & Pango
Epic Dandidoo*
9
Air Plant
01:05:00:00 / 21:45:00
Bowgart & Quibble
Epic Pango*
7
Air Cold
01:03:00:00 / 20:15:00
Thumpies & Oaktopus
Epic Quibble*
7
Air Water
21:00:00 / 15:45:00
Congle & Dandidoo
Epic Bowgart*
9
Plant Water Cold
01:05:00:00 / 21:45:00
Congle & Funcorn
Epic Spunge*
9
Air Plant Water
01:01:00:00 / 18:45:00
Thumpies & Quibble
Epic Thumpies*
9
Air Plant Cold
01:09:00:00 / 01:00:45:00
Congle & Oaktopus
Epic Congle*
7
Air Water Cold
23:00:00 / 17:15:00
Thumpies & Maw
Epic Deedge*
9
Air Plant Water Cold
01:17:00:00 / 01:06:45:00
Bowgart & Pango
Epic Grumpyre*
9
Shadow
01:04:00:00 / 21:00:00
Bowgart & Dandidoo
Epic Wubbox
20
Electricity
N/A
Purchase from Market (Diamonds). Note that activating this monster requires other epic monsters.
Epic Yool
9
Festival of Yay
01:00:12:00 / 18:54:00
Deedge & Pango (during event or Festival of Yay).
Tawkerr
8
Legendary
08:00:00 / 06:00:00
Purchased for 100 Relics (egg)
Maggpi
8
Legendary
08:00:00 / 06:00:00
Purchased for 100 Relics (egg)
Do
10
Dipsters
N/A
Purchase from Market (Keys). Note this cost varies based on island (2 Keys for Cold Island)
Re
10
Dipsters
N/A
Purchase from Market (Keys). Note this cost varies based on island (2 Keys for Cold Island)
Mi
10
Dipsters
N/A
Purchase from Market (Keys). Note this cost varies based on island (2 Keys for Cold Island)
Fa
10
Dipsters
N/A
Purchase from Market (Keys). Note this cost varies based on island (2 Keys for Cold Island)
Sol
10
Dipsters
N/A
Purchase from Market (Keys). Note this cost varies based on island (2 Keys for Cold Island)
La
10
Dipsters
N/A
Purchase from Market (Keys). Note this cost varies based on island (2 Keys for Cold Island)
Ti
10
Dipsters
N/A
Purchase from Market (Keys). Note this cost varies based on island (2 Keys for Cold Island)