Last Updated on September 26, 2023 by Samuel Franklin
My Singing Monsters (MSM) Earth Island Breeding Chart Guide
In this Earth Island breeding chart and guide for My Singing Monsters you'll find all the details necessary to complete the respective monster book on this rocky island of MSM. As the last of the natural islands the Earth Island continues the increasing challenges players have experienced thus far in collecting singing monsters. Like the islands before it though with an efficient breeding plan you'll quickly develop the island and your Stonyx Castle to have a new gold generating hub to push into the next two fire themed islands.
Details within this MSM Earth Island breeding guide include a list of all the indigenous monsters of this region, the level required to unlock each monster, the best breeding combination to use, the respective breeding times and finally the elements of each available monster. With this information you'll be able to devise your breeding strategy for Earth Islands and make careful use of My Singing Monster events to complete your island collection.
As a full breeding guide for Earth Island this page includes a range of breeding spoilers for monsters of that island. For information on other island monsters or breeding mechanics in general refer to our MSM breeding guide. For island specific guides to MSM visit our Plant Island, Cold Island, Air Island, Water Island, Fire Haven, Fire Oasis, Light Island, Psychic Island, Faerie Island or Bone Island pages.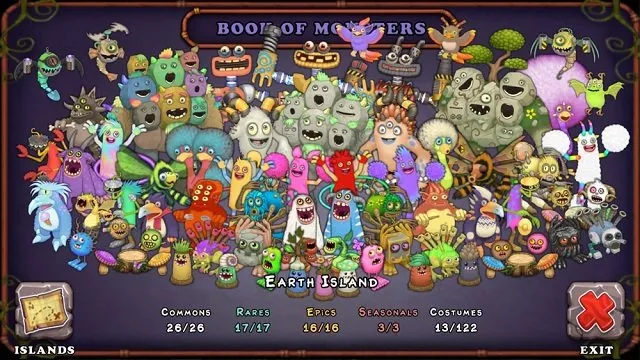 My Singing Monsters Earth Island Overview
The Earth Island is presented as an inhospitable place in comparison to the other game islands so far in My Singing Monsters with humid air and signs of molten magma beneath the surface which is perhaps a foreshadowing to the fire themes unlocked after the Earth Island. This location is no issue for monsters that have an Earth element though with only Water element monsters unable to survive at this MSM location. This island is also the home to the SummerSong festival which is themed based on the real world summer and when active provides players the opportunity to acquire the Hoola monster.
Earth Island is the fourth overall island and last natural island of the MSM game universe with a minimum level of 4 and 250k gold coins required to unlock it provided you have also have the previous island unlocked. Within this rocky landscape there is a total of 62 monsters to collect which is split between 27 commons, 17 rares, 17 epics, 3 seasonals and a further 128 costumes for the truly dedicated monster breeder.
Earth Island Breeding Chart
The Earth Island breeding chart tables below summarises all of the indigenous monsters available on this island with this information critical to finishing the monster collection book and filling out the island space. Like other islands there are some limitations to monster breeding where players are only able to acquire rare, epic and special monsters if specific game events are active. Where this is the case for a monster it is marked with an asterisk (*) below for easy identification and should only be attempted when the respective MSM game event is active.
For further optimisation of your Earth Island breeding adventure the breeding combinations are presented in a recommended order that is based on success chance of acquiring a specific monster and reduces the waiting time for failures. While you can use any of the options listed below the top listed option will be most efficient so if you're lacking those parents you may consider acquiring them first. Note that breeding times referenced include the default breeding structure time and enhanced are applicable where players have upgraded this structure with diamonds for a 25% reduction in breeding time.
Monster
Required Level
Elements
Breed Time dd:hh:mm:ss (Default/Enhanced)
Breeding Combinations
Noggin
1
Earth
00:00:05 / 00:00:03
Purchase from Market or acquire from a breeding failure
Mammott
2
Cold
00:02:00 / 00:01:30
Purchase from Market or acquire from a breeding failure
Potbelly
9
Plant
02:00:00 / 01:30:00
Purchase from Market or acquire from a breeding failure
Tweedle
9
Air
04:00:00 / 03:00:00
Purchase from Market or acquire from a breeding failure
Drumpler
7
Earth Cold
00:30:00 / 00:22:30
Noggin & Mammott
Shrubb
9
Plant Rock
08:00:00 / 06:00:00
Potbelly & Noggin
Furcorn
7
Plant Cold
08:00:00 / 06:00:00
Potbelly & Mammott
Dandidoo
9
Air Plant
08:00:00 / 06:00:00
Tweedle & Potbelly
Pango
7
Air Cold
08:00:00 / 06:00:00
Tweedle & Mammott
Cybop
7
Air Earth
08:00:00 / 06:00:00
Tweedle & Noggin
Clamble
9
Plant Earth Cold
12:00:00 / 09:00:00
Potbelly & Drumpler
Noggin & Furcorn
Mammott & Shrubb
Thumpies
9
Air Plant Cold
12:00:00 / 09:00:00
Dandioo & Mammott
Pango & Potbelly
Furcorn & Tweedle
PomPom
7
Air Earth Cold
12:00:00 / 09:00:00
Tweedle & Drumpler
Noggin & Pango
Mammott & Cybop
Reedling
9
Air Plant Earth
12:00:00 / 09:00:00
Noggin & Dandidoo
Potbelly & Cybop
Tweedle & Shrubb
Quarrister
9
Air Plant Earth Cold
24:00:00 / 18:00:00
Thumpies & Noggin
Reedling & Mammott
PomPom & Potbelly
Clamble & Tweedle
Dandidoo & Drumpler
Cybop & Furcorn
Pango & Shrubb
Humbug
9
Poison
01:12:00:00 / 01:03:00:00
Quarrister & Clamble
Quarrister & Thumpies
Quarrister & PomPom
Quarrister & Reedling
Wubbox
20
Electricity
N/A
Purchase from Market (Coins). Note that activating this monster requires other common monsters.
Hoola*
9
SummerSong
01:01:00:00 / 18:45:00
PomPom & Pango
Rare Noggin*
4
Earth
06:00:00 / 04:30:00
Any three element monster pairing where both parents have the Earth element.
Rare Mammott*
4
Cold
06:00:00 / 04:30:00
Any three element monster pairing where both parents have the Cold element.
Rare Potbelly*
9
Plant
06:00:00 / 04:30:00
Any three element monster pairing where both parents have the Plant element.
Rare Tweedle*
4
Air
06:00:00 / 04:30:00
 Any three element monster pairing where both parents have the Air element.
Rare Drumpler*
7
Earth Cold
01:07:30 / 00:50:37
Same as common monster above
Rare Shrubb*
9
Plant Earth
10:30:00 / 07:52:30
Same as common monster above
Rare Furcorn*
9
Plant Cold
10:30:00 / 07:52:30
Same as common monster above
Rare Dandidoo*
9
Air Plant
10:30:00 / 07:52:30
Same as common monster above
Rare Pango*
7
Air Cold
10:30:00 / 07:52:30
Same as common monster above
Rare Cybop*
7
Air Earth
10:30:00 / 07:52:30
Same as common monster above
Rare Clamble*
9
Plant Earth Cold
15:30:00 / 11:37:30
Same as common monster above
Rare Thumpies*
9
Air Plant Cold
15:30:00 / 11:37:30
Same as common monster above
Rare PomPom*
7
Air Earth Cold
15:30:00 / 11:37:30
Same as common monster above
Rare Reedling*
9
Air Plant Earth
15:30:00 / 11:37:30
Same as common monster above
Rare Quarrister*
9
Air Plant Earth Cold
01:21:30:00 / 22:52:30
Same as common monster above
Rare Humbug
9
Poison
01:12:30:00 / 01:10:07:30
Same as common monster above
Rare Wubbox
20
Electricity
N/A
Purchase from Market (Starpower). Note that activating this monster requires other rare monsters.
Rare Hoola*
9
SummerSong
01:07:45:00 / 23:48:45
Same as common monster above
Epic Noggin*
4
Earth
01:00:00 / 00:45:00
Quarrister & Cybop
Epic Mammott*
4
Cold
05:00:00 / 03:45:00
Quarrister & Drumpler
Epic Potbelly*
9
Plant
09:00:00 / 06:45:00
Quarrister & Furcorn
Epic Tweedle*
4
Air
11:00:00 / 08:15:00
Quarrister & Pango
Epic Drumpler*
7
Earth Cold
15:00:00 / 11:45:00
Thumpies & Cybop
Epic Shrubb*
9
Plant Earth
19:00:00 / 14:15:00
PomPom & Dandidoo
Epic Furcorn*
9
Plant Cold
17:00:00 / 12:45:00
Thumpies & Drumpler
Epic Dandidoo*
9
Air Plant
01:05:00:00 / 21:45:00
Clamble & Pango
Epic Pango*
7
Air Cold
01:03:00:00 / 20:15:00
Reedling & Furcorn
Epic Cybop*
7
Air Earth
23:00:00 / 17:15:00
PomPom & Shrubb
Epic Clamble*
9
Plant Earth Cold
21:00:00 / 15:45:00
PomPom & Furcorn
Epic Thumpies*
9
Air Plant Cold
01:09:00:00 / 01:00:45:00
Reedling & Pango
Epic PomPom*
7
Air Earth Cold
01:03:00:00 / 20:15:00
Reedling & Drumpler
Epic Reedling*
9
Air Plant Earth
17:00:00 / 12:45:00
Thrumpies & Shrubb
Epic Quarrister*
9
Air Plant Earth Cold
01:11:00:00 / 01:02:15:00
Clamble & Dandidoo
Epic Humbug*
9
Poison
01:08:00:00 / 01:00:00:00
Clamble & Cybop
Epic Wubbox
20
Electricity
N/A
Purchase from Market (Diamonds). Note that activating this monster requires other epic monsters.
Epic Hoola*
9
SummerSong
21:20:00 / 16:00:00
Quarrister & Dandidoo
Hyehehe
9
Mythical
01:04:00:00 / 21:00:00
Thumpies & PomPom
Tawkerr
8
Legendary
08:00:00 / 06:00:00
Purchased for 100 Relics (egg)
Stoowarb
8
Legendary
08:00:00 / 06:00:00
Purchased for 100 Relics (egg)
Do
10
Dipsters
N/A
Purchase from Market (Keys). Note this cost varies based on island (5 Keys for Earth Island)
Re
10
Dipsters
N/A
Purchase from Market (Keys). Note this cost varies based on island (5 Keys for Earth Island)
Mi
10
Dipsters
N/A
Purchase from Market (Keys). Note this cost varies based on island (5 Keys for Earth Island)
Fa
10
Dipsters
N/A
Purchase from Market (Keys). Note this cost varies based on island (5 Keys for Earth Island)
Sol
10
Dipsters
N/A
Purchase from Market (Keys). Note this cost varies based on island (5 Keys for Earth Island)
La
10
Dipsters
N/A
Purchase from Market (Keys). Note this cost varies based on island (5 Keys for Earth Island)
Ti
10
Dipsters
N/A
Purchase from Market (Keys). Note this cost varies based on island (5 Keys for Earth Island)