Last Updated on October 2, 2023 by Samuel Franklin
My Singing Monsters (MSM) Faerie Island Breeding Chart Guide
Explore our Faerie Island breeding guide which is designed to assist players on their quest to the magical themed fairy island of MSM. Introducing an additional element of Faerie this challenge expands on the magical island variants while also utilising the natural and fire elements players have already mastered in this stage of their My Singing Monsters progression. Building further on these themes is the season of Cloverspell where the lucky Ffidyll can be obtained to help complete your seasonal objective.
On this page players will find a Faerie Island breeding chart to reference when your focus is on completing your monster book collection which utilises the best breeding combinations available to collect the common, rare and epic monster variants. In addition the breeding time requirements are shown within this guide so that players are aware of the outcomes of their breeding attempts when on the Faerie Island.
Given the advanced nature of the Faerie element this guide does not include any basic information related to breeding mechanics and includes full monster spoilers below. For island specific guides to MSM visit our Plant Island, Cold Island, Water Island, Earth Island, Fire Haven, Fire Oasis, Light Island, Psychic Island or Bone Island pages.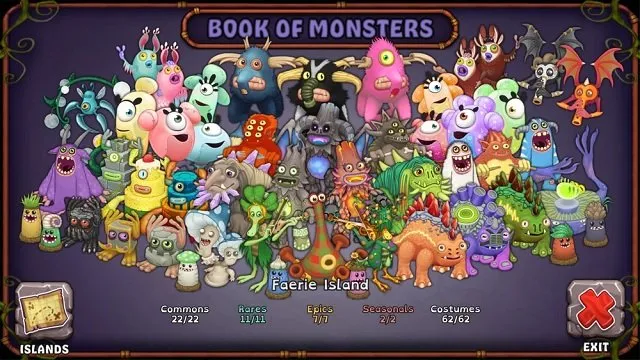 My Singing Monsters Faerie Island Overview
Offering the third magical island to players if unlocking them in order the Faerie Island adds another magical element based on the magic of fairies to your breeding equation. With this in mind you'll find fantasy themed monsters with wings, mushroom caps and other strange designs on this island with the seasonal monster being a lucky clover based creature that appears during the Cloverspell event. Described as an island where wishes come true the Faerie Island is shrouded in twilight and mists where all manner of magical creatures have been able to dwell untouched by the outside world in the shadow of the Aurorium Castle.
Unlocking this island requires a hefty sum of gold with 1,500,000 provided players are already level 9 and have unlocked the Fire Haven. Similar to the other magical islands it is a smaller and concentrated pool of monsters that players will be seeking to unlock from the Earth, Ice, Fire and Faerie elements. In total your objective is the 22 common, 11 rare, 7 epic, 2 seasonal and 62 costumes that Faerie Island has to offer.
Faerie Island Breeding Chart
The Faerie Island chart below presents all your breeding solutions to acquiring every potential monster featured on the island and as a result complete your book of monsters entry. While there are some alternative breeding options to those shown below they have been picked based on optimising your odds and reducing the time cost of any failures that occur and thus are the recommended order for players to follow.
Similar to other islands of My Singing Monsters only common monsters are always available while rare, epic and seasonal are time limited and accordingly marked with an asterisk (*) below for quick identification. Breeding times referenced below are the default values for the breeding structure with the enhanced a 25% reduction for the applicable diamond upgrade.
Monster
Required Level
Elements
Breed Time dd:hh:mm:ss (Default/Enhanced)
Breeding Combinations
Noggin
1
Earth
00:00:05 / 00:00:03
Purchase from Market or acquire from a breeding failure
Mammott
2
Ice
02:00:00 / 01:30:00
Purchase from Market or acquire from a breeding failure
Kayna
9
Fire
07:00:00 / 05:15:00
Purchase from Market or acquire from a breeding failure
Floot Fly
9
Faerie
04:00:00 / 03:00:00
Purchase from Market or acquire from a breeding failure
Drumpler
7
Earth Ice
00:30:00 / 00:22:30
Noggin & Mammott
Stogg
9
Earth Fire
10:00:00 / 07:30:00
Noggin & Kayna
HippityHop
9
Earth Faerie
9:00:00 / 06:45:00
Noggin & Floot Fly
Boskus
9
Ice Fire
10:00:00 / 07:30:00
Mammott & Kayna
Squot
9
Ice Faerie
9:00:00 / 06:45:00
Mammott & Floot Fly
Wimmzies
9
Fire Faerie
9:00:00 / 06:45:00
Kayna & Floot Fly
Ziggurab
9
Earth Ice Fire
20:00:00 / 15:00:00
Boskus & Noggin
Cantorell
9
Earth Ice Faerie
16:00:00 / 12:00:00
Squot & Noggin
Drumpler & Floot Fly
Bridg-it
9
Earth Fire Faerie
16:00:00 / 12:00:00
Wimmzies & Noggin
Clavi Gnat
9
Ice Fire Faerie
16:00:00 / 12:00:00
Wimmzies & Mammott
Pladdie
9
Earth Ice Fire Faerie
01:08:00:00 / 01:00:00:00
Glavi Gnat & Noggin
Ffidyll*
9
Cloverspell
22:44:00 / 17:03:00
Pladdie & Floot Fly
Rare Noggin*
4
Earth
06:00:00 / 04:30:00
Cantorell & Bridg-it
Rare Mammott*
4
Ice
06:00:00 / 04:30:00
Cantorell & Clavi Gnat
Rare Kayna*
9
Fire
08:00:00 / 06:00:00
Bridg-it & Clavi Gnat
Rare Floot Fly*
9
Faerie
 08:00:00 / 06:00:00
Any three element monster pairing where both parents have the Faerie element (Cantorell, Bridg-it and Clavi Gnat)
Rare Dumpler*
7
Earth Ice
 01:07:30 / 00:50:37
Same as common monster above
Rare Stogg*
9
Earth Fire
13:30:00 / 10:07:30
Same as common monster above
Rare HippityHop*
9
Earth Faerie
12:30:00 / 09:22:30
Same as common monster above
Rare Boskus*
9
Ice Fire
00:13:30 / 10:07:30
Same as common monster above
Rare Wimmzies*
9
Fire Faerie
12:30:00 / 09:22:30
Same as common monster above
Rare Ziggurab*
9
Earth Ice Fire
01:02:30:00 / 19:52:30
Same as common monster above
Rare Bridg-it*
9
Earth Fire Faerie
01:01:30:00 / 19:07:30
Same as common monster above
Rare Ffidyll*
9
Cloverspell
01:07:45:00 / 23:48:45
Pladdie & Floot Fly
Epic Noggin*
4
Earth
01:00:00 / 00:45:00
Pladdie & Boskus
Epic Mammott*
4
Ice
05:00:00 / 03:45:00
Pladdie & Stogg
Epic Kayna*
9
Fire
15:00:00 / 11:15:00
Pladdie & Drumpler
Epic Drumpler*
7
Earth Ice
15:00:00 / 11:15:00
Ziggurab & HippityHop
Epic Stogg*
9
Earth Fire
01:05:00:00 / 21:45:00
Bridg-it & Squot
Epic Boskus*
9
Ice Fire
19:00:00 / 14:15:00
Cantorell & Wimmzies
Epic Ziggurab*
9
Earth Ice Fire
01:11:00:00 / 01:02:15:00
Bridg-it & Drumpler
Do
10
Dipsters
N/A
Purchase from Market (Keys). Note this cost varies based on island (6 Keys for Faerie Island)
Re
10
Dipsters
N/A
Purchase from Market (Keys). Note this cost varies based on island (6 Keys for Faerie Island)
Mi
10
Dipsters
N/A
Purchase from Market (Keys). Note this cost varies based on island (6 Keys for Faerie Island)
Fa
10
Dipsters
N/A
Purchase from Market (Keys). Note this cost varies based on island (6 Keys for Faerie Island)
Sol
10
Dipsters
N/A
Purchase from Market (Keys). Note this cost varies based on island (6 Keys for Faerie Island)
La
10
Dipsters
N/A
Purchase from Market (Keys). Note this cost varies based on island (6 Keys for Faerie Island)
Ti
10
Dipsters
N/A
Purchase from Market (Keys). Note this cost varies based on island (6 Keys for Faerie Island)