Last Updated on October 2, 2023 by Samuel Franklin
My Singing Monsters (MSM) Light Island Breeding Chart Guide
Our Light Island breeding chart for My Singing Monsters (MSM) explores the magical mid game island that will push players with new magic themed challenges that goes beyond the beginner natural and fire islands. Designed as the first of several magical islands players that reach the Light Island will likely be familiar with the core breeding mechanics of MSM by the time it is unlocked with this island adding the new light element into the breeding equation for new monster unlocks. Alongside these new monsters players will also breed a number of familiar natural monsters to complete this island alongside utilising the SkyPainting seasonal event that creates rainbow colours across the island.
Our guide to effective Light Island breeding below provides a reference point for the complete monster collection of this island with details on how to breed each monster and their respective element combinations in order to plan your progression through your first magical island. To help this progression each monster also includes a recommended breeding combination to obtain it that optimises for breeding time and the respective breeding duration to help identification of your eggs.
Like any breeding guide the Light Island details below include spoilers for this My Singing Monster island and also assumes a base level of breeding mechanics understanding given Light Island is an advanced MSM island. For island specific guides to MSM visit our Plant Island, Cold Island, Water Island, Earth Island, Fire Haven, Fire Oasis, Psychic Island, Faerie Island or Bone Island pages.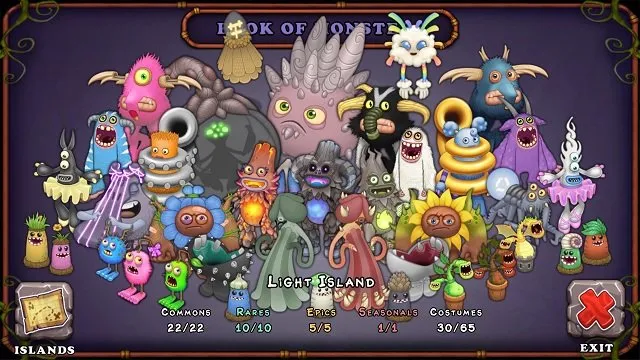 My Singing Monsters Light Island Overview
Light Island is the first of several magical islands in MSM and described as an island that is Light-hearted, deLightful and enLightening with the backdrop being the colourful phenomenon known as Aurora Monstralis. The various light sources on this island are combined with the Confettite Castle that gives Light Island one of the brightest designs yet which is only enhanced during the multi coloured seasonal event of SkyPainting. It's during this event players can also obtain Whiz-bang which embodies these rainbow colours within its monster design.
Regarding the monster collection of MSM the island has a smaller collection than the earlier natural islands players would have experienced with 22 common, 10 rare, 5 epic and 1 seasonal that are further expanded with 65 costume options. With no Earth or Water element monsters available on this island instead the focus is on Cold, Plant, Fire and of course the new Light element once players pay the island unlock fee of 1,000,000 gold.
Light Island Breeding Chart
The MSM Light Island breeding chart below features the full collection of indigenous monsters for players to complete their monster book collection on this island. It includes all the available common, rare, epic and seasonable monsters available on the island with breeding combinations available that serve as effective combinations of monsters to maximise your odds and time spent.
Just like the other islands in the My Singing Monsters universe there are specific monsters on the island that are only available during special time periods. This includes the rare, epic and special monsters that have an asterisk (*) below where applicable and accordingly these monster breeding attempts should only take place when these events are active. The times shown below for default/enhanced breeding times are the base breeding structure times or the diamond upgraded structure times (25% reduction).
Monster
Required Level
Elements
Breed Time dd:hh:mm:ss (Default/Enhanced)
Breeding Combinations
Mammott
2
Cold
00:02:00 / 00:01:30
Purchase from Market or acquire from a breeding failure
Potbelly
9
Plant
02:00:00 / 01:30:00
 Purchase from Market or acquire from a breeding failure
Kayna
9
Fire
07:00:00 / 05:15:00
 Purchase from Market or acquire from a breeding failure
Fluoress
9
Light
02:00:00 / 01:30:00
 Purchase from Market or acquire from a breeding failure
Furcorn
9
Plant Ice
08:00:00 / 06:00:00
Potbelly & Mammott
Flowah
9
Plant Fire
10:00:00 / 07:30:00
 Potbelly & Kayna
Gob
9
Plant Light
09:00:00 / 06:45:00
Potbelly & Fluoress
Boskus
9
Ice Fire
10:00:00 / 07:30:00
Mammott & Kayna
Bulbo
9
Ice Light
09:00:00 / 06:45:00
Mammott & Fluoress
Pluckbill
9
Fire Light
09:00:00 / 06:45:00
Kayna & Fluoress
Sooza
9
Plant Ice Fire
20:00:00 / 15:00:00
Flowah & Mammott
Boskus & Potbelly
Furcorn & Kayna
Spytrap
9
Plant Ice Light
16:00:00 / 12:00:00
Gob & Mammott
Furcorn & Fluoress
Bulbo & Potbelly
TooToo
9
Plant Fire Light
16:00:00 / 12:00:00
Pluckbill & Potbelly
Gob & Kayna
Flowah & Fluoress
Fiddlement
9
Ice Fire Light
16:00:00 / 12:00:00
Pluckbill & Mammott
Boskus & Fluoress
Bulbo & Kayna
Blow't
9
Plant Ice Fire Light
01:08:00:00 / 01:00:00:00
TooToo & Mammott
Fiddlement & Potbelly
Spytrap & Kayna
Snooza & Fluoress
Whiz-bang*
9
SkyPainting
01:04:06:00 / 00:21:04:30
Blow't & Spytrap
Rare Mammott*
4
Cold
06:00:00 / 04:30:00
Any three element monster pairing where both parents have the Cold element.
Rare Potbelly*
9
Plant
06:00:00 / 04:30:00
Spytrap & TooToo
Rare Kayna*
9
Fire
08:00:00 / 06:00:00
TooToo & Fiddlement
Rare Fluoress*
9
Light
08:00:00 / 06:00:00
Any three element monster pairing where both parents have the Light element (Spytrap, TooToo and Fiddlement)
Rare Furcorn*
9
Plant Ice
 10:30:00 / 07:52:30
Same as common monster above
Rare Flowah*
9
Plant Fire
13:30:00 / 10:07:30
Same as common monster above
Rare Gob*
9
Plant Light
12:30:00 / 09:22:30
Same as common monster above
Rare Boskus*
9
Ice Fire
13:30:00 / 10:07:30
Same as common monster above
Rare Sooza*
9
Plant Ice Fire
01:02:30:00 / 19:52:30
Same as common monster above
Rare TooToo*
9
Plant Fire Light
01:01:30:00 / 19:07:30
Same as common monster above
Epic Mammott*
4
Cold
05:00:00 / 03:45:00
Riff & Pango
Epic Potbelly*
9
Plant
09:00:00 / 06:45:00
Blow't & Boskus
Epic Kayna*
9
Fire
15:00:00 / 11:15:00
Blow't & Furcorn
Epic Furcorn*
9
Plant Ice
17:00:00 / 12:45:00
Snooza & Pluckbill
Epic Boskus*
9
Ice Fire
19:00:00 / 14:15:00
TooToo & Bulbo
Do
10
Dipsters
N/A
Purchase from Market (Keys). Note this cost varies based on island (6 Keys for Light Island)
Re
10
Dipsters
N/A
 Purchase from Market (Keys). Note this cost varies based on island (6 Keys for Light Island)
Mi
10
Dipsters
N/A
 Purchase from Market (Keys). Note this cost varies based on island (6 Keys for Light Island)
Fa
10
Dipsters
N/A
 Purchase from Market (Keys). Note this cost varies based on island (6 Keys for Light Island)
Sol
10
Dipsters
N/A
 Purchase from Market (Keys). Note this cost varies based on island (6 Keys for Light Island)
La
10
Dipsters
N/A
 Purchase from Market (Keys). Note this cost varies based on island (6 Keys for Light Island)
Ti
10
Dipsters
N/A
 Purchase from Market (Keys). Note this cost varies based on island (6 Keys for Light Island)