Last Updated on April 18, 2023 by Samuel Franklin
My Singing Monsters (MSM) Water Island Breeding Chart Guide
Our MSM Water Island breeding chart is designed to guide players through finishing the full monster collection book for this water themed island. Serving as another natural element island players will once again be challenged to mix the natural elements to unlock all of the available island monsters. Like islands before it this challenge also extends to the Water Island song and a unique seasonal event of Eggs-Travaganza where you can find the Easter Bunny inspired special monster of Blappit.
In this Water Island breeding guide we cover all of the monsters you need to collect, how to obtain them through breeding (or other means), respective breeding times, the minimum player level to activate the monster and the elements that each monster is linked to. Bringing this information into your strategy to defeat and optimise this fourth MSM game island players will be able to breed the common, rare, epic and seasonal monsters that call this watery location home. It also details how to breed water island mythical monsters which was added in April 2023.
Note that this breeding guide to the Water Island includes the respective spoilers for My Singing Monsters. If you want to learn more about general breeding mechanics we have a detailed breeding guide also available. For island specific guides to MSM visit our Plant Island, Cold Island, Air Island, Earth Island, Fire Haven or Fire Oasis pages.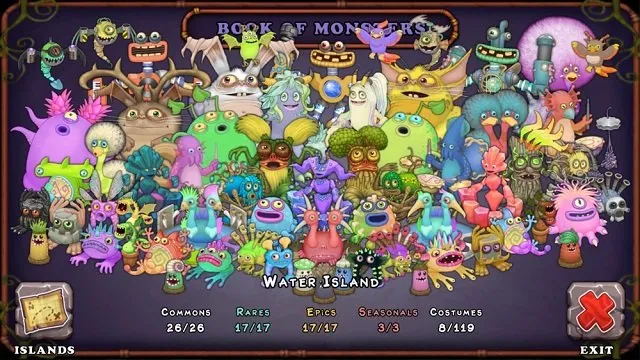 My Singing Monsters Water Island Overview
The Water Island is presented as an ocean full of tranquillity and lacks the land focus of the My Singing Monsters up to this point of game progression. While it's hinted a tentacle beast hides beneath the surface amongst the coral reefs it is players that will be filling this world up with their own selection of singing monsters that call this watery area home and overseen by your Aquanine Castle. As noted above this destination is also the home of the Easter inspired game event known as Eggs-Travaganza that allows players to acquire the seasonal Blappit.
Water Island is the fourth game island in My Singing Monsters and requires players to be level 4 in order to unlock it which is almost a guarantee by the time players have the previous islands unlocked. In addition though players will have to acquire their first six figure gold sum (100,000) to unlock Water Island which is the largest investment for an island yet in your MSM journey. With the island unlocked players will be able to start on their goal to unlock the 63 monsters split between 26 common, 17 rare, 17 epic, 3 seasonal and 120 costumes. Like other natural islands players will find all the natural elements excluding the cold element which is completely absent from the indigenous monsters on this watery ocean area.
Water Island Breeding Chart
The Water Island breeding chart below features only the indigenous monsters to this island and intended to help you complete the monster collection book by efficiently using the building structure at this location. In order to facilitate this the breeding combinations noted below are listed in their recommended order which is informed based on the expected odds of the target monster and the down time you'll have to wait out if you fail. These breeding times are split between the default time for the structure and the enhanced time that is based on having paid for the diamond upgrade to reduce breeding time by 25% from the default time.
The Water Island chart table is listed in order from common to rare, epic and other monster types with those that are event limited marked with an asterisk (*) for easy identification as players should not attempt to breed these outside of these limited game events.
Monster
Required Level
Elements
Breed Time dd:hh:mm:ss (Default/Enhanced)
Breeding Combinations
Noggin
1
Earth
00:00:05 / 00:00:03
Purchase from Market or acquire from a breeding failure
Toe Jammer
4
Water
00:01:00 / 00:00:45
Purchase from Market or acquire from a breeding failure
Potbelly
9
Plant
02:00:00 / 01:30:00
Purchase from Market or acquire from a breeding failure
Tweedle
4
Air
04:00:00 / 03:00:00
Purchase from Market or acquire from a breeding failure
Fwog
7
Earth Water
00:30:00 / 00:22:30
Noggin & Toe Jammer
Shrubb
9
Plant Rock
08:00:00 / 06:00:00
Potbelly & Noggin
Oaktopus
9
Plant Water
08:00:00 / 06:00:00
Potbelly & Toe Jammer
Dandidoo
9
Air Plant
08:00:00 / 06:00:00
Tweedle & Potbelly
Quibble
7
Air Water
08:00:00 / 06:00:00
Tweedle & Toe Jammer
Cybop
7
Air Earth
08:00:00 / 06:00:00
Tweedle & Noggin
Pummel
9
Plant Earth Water
12:00:00 / 09:00:00
Potbelly & Fwog
Noggin & Oaktopus
Toe Jammer & Shrubb
Spunge
9
Air Plant Water
12:00:00 / 09:00:00
Toe Jammer & Dandidoo
Potbelly & Quibble
Tweedle & Oaktopus
Scups
7
Air Earth Water
12:00:00 / 09:00:00
Tweedle & Fwog
Nogging & Quibble
Toe Jammer & Cybop
Reedling
9
Air Plant Earth
12:00:00 / 09:00:00
Noggin & Dandidoo
Potbelly & Cybop
Tweedle & Shrubb
Shellbeat
9
Air Plant Earth Water
24:00:00 / 18:00:00
Spunge & Noggin
Scups & Potbelly
Reedling & Toe Jammer
Pummel & Noggin
Dandidoo & Fwog
Cybop & Oaktopus
Quibble & Shrubb
Jeeode
9
Crystal
01:12:00:00 / 01:03:00:00
Shellbeat & Spunge
Shellbeat & Pummel
Shellbeat & Scups
Shellbeat & Reedling
Wubbox
20
Electricity
N/A
Purchase from Market (Coins). Note that activating this monster requires other common monsters.
Blabbit*
9
Eggs-Travaganza
19:00:00 / 14:15:00
Spunge & Scups
Anglow
9
Mythical
01:09:00:00 / 01:00:45:00
Scups & Pummel
Rare Noggin*
4
Earth
06:00:00 / 04:30:00
Any three element monster pairing where both parents have the Earth element.
Rare Toe Jammer*
4
Water
06:00:00 / 04:30:00
Any three element monster pairing where both parents have the Water element.
Rare Potbelly*
9
Plant
06:00:00 / 04:30:00
Any three element monster pairing where both parents have the Plant element.
Rare Tweedle*
4
Air
06:00:00 / 04:30:00
 Any three element monster pairing where both parents have the Air element.
Rare Fwog*
7
Earth Water
01:15:00 / 00:56:15
Same as common monster above
Rare Shrubb*
9
Plant Earth
10:30:00 / 07:52:30
Same as common monster above
Rare Oaktopus*
9
Plant Water
10:30:00 / 07:52:30
Same as common monster above
Rare Dandidoo*
9
Air Plant
10:30:00 / 07:52:30
Same as common monster above
Rare Quibble*
7
Air Water
10:30:00 / 07:52:30
Same as common monster above
Rare Cybop*
7
Air Earth
10:30:00 / 07:52:30
Same as common monster above
Rare Pummel*
9
Plant Earth Water
15:30:00 / 11:37:30
Same as common monster above
Rare Spunge*
9
Air Plant Water
15:30:00 / 11:37:30
Same as common monster above
Rare Scups*
7
Air Earth Water
15:30:00 / 11:37:30
Same as common monster above
Rare Reedling*
9
Air Plant Earth
15:30:00 / 11:37:30
Same as common monster above
Rare Shellbeat*
9
Air Plant Earth Water
01:06:30:00 / 22:52:30
Same as common monster above
Rare Jeeode*
9
Crystal
01:21:30:00 / 01:10:07:30
Same as common monster above
Rare Wubbox
20
Electricity
N/A
Purchase from Market (Starpower). Note that activating this monster requires other rare monsters.
Rare Blabbit*
9
Eggs-Travaganza
01:00:15:00 / 18:11:15
Same as common monster above
Epic Noggin*
4
Earth
01:00:00 / 00:45:00
Shellbeat & Shrubb
Epic Toe Jammer*
4
Water
03:00:00 / 02:15:00
Shellbeat & Fwog
Epic Potbelly*
9
Plant
09:00:00 / 06:45:00
Shellbeat & Dandidoo
Epic Tweedle*
4
Air
11:00:00 / 08:15:00
Shellbeat & Quibble
Epic Fwog*
7
Earth Water
13:00:00 / 09:45:00
Reedling & Oaktopus
Epic Shrubb*
9
Plant Earth
19:00:00 / 14:15:00
Reedling & Quibble
Epic Oaktopus*
9
Plant Water
01:07:00:00 / 23:15:00
Reedling & Fwog
Epic Dandidoo*
9
Air Plant
01:05:00:00 / 21:45:00
Pummel & Cybop
Epic Quibble*
7
Air Water
21:00:00 / 15:45:00
Spunge & Shrubb
Epic Cybop*
7
Air Earth
23:00:00 / 17:15:00
Scups & Dandidoo
Epic Pummel*
9
Plant Earth Water
01:07:00:00 / 23:15:00
Scups & Shrubb
Epic Spunge*
9
Air Plant Water
01:01:00:00 / 18:45:00
Scups & Oaktopus
Epic Scups*
7
Air Earth Water
01:13:00:00 / 01:.03:45:00
Pummel & Dandidoo
Epic Reedling*
9
Air Plant Earth
17:00:00 / 12:45:00
Spunge & Fwog
Epic Shellbeat*
9
Air Plant Earth Water
01:19:00:00 / 01:08:15:00
Spunge & Cybop
Epic Jeeode*
9
Crystal
01:02:00:00 / 19:30:00
Pummel & Quibble
Epic Wubbox
20
Electricity
N/A
Purchase from Market (Diamonds). Note that activating this monster requires other epic monsters.
Epic Blabbit*
9
Eggs-Travaganza
01:01:22:00 / 19:01:30
Shellbeat & Oaktopus
Parlsona
8
Legendary
08:00:00 / 06:00:00
Purchased for 100 Relics (egg)
Maggpi
8
Legendary
08:00:00 / 06:00:00
Purchased for 100 Relics (egg)
Do
10
Dipsters
N/A
Purchase from Market (Keys). Note this cost varies based on island (4 Keys for Water Island)
Re
10
Dipsters
N/A
Purchase from Market (Keys). Note this cost varies based on island (4 Keys for Water Island)
Mi
10
Dipsters
N/A
Purchase from Market (Keys). Note this cost varies based on island (4 Keys for Water Island)
Fa
10
Dipsters
N/A
Purchase from Market (Keys). Note this cost varies based on island (4 Keys for Water Island)
Sol
10
Dipsters
N/A
Purchase from Market (Keys). Note this cost varies based on island (4 Keys for Water Island)
La
10
Dipsters
N/A
Purchase from Market (Keys). Note this cost varies based on island (4 Keys for Water Island)
Ti
10
Dipsters
N/A
Purchase from Market (Keys). Note this cost varies based on island (4 Keys for Water Island)