Last Updated on September 14, 2021 by Samuel Franklin
Tarkov Scav Karma – How To Increase Fence Reputation
Learn how to increase Scav Karma and in turn level up Fence in Tarkov with the system that was introduced with patch 12.11 (June 2021) and finally makes it possible to gain Fence reputation. Offering some distinctive benefits along with unique ways to acquire these reputation points Fence is now a potential focus point for your Tarkov account years after he was added to the trader list.
This adds another important trader to focus on and requires a different playstyle and considerations entirely to levelling the other traders in Escape From Tarkov (EFT). In this guide I'll detail what is Scav Karma, what does it do, how to check it and how you can increase it.
In terms of EFT lore Fence has always been a unique trader and presented as someone who has a vast network of connections across Tarkov while having close ties to the various Scav populations. Choosing to resell items that players sell to him rather than having his own inventory traditionally and being the provider of the valuable Collector quest Fence is both important and mysterious.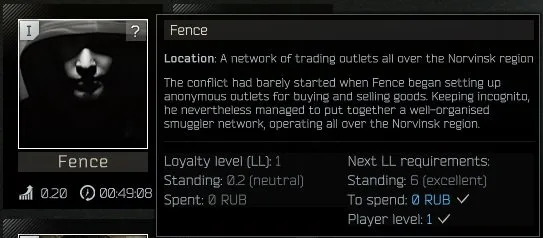 What Is Scav Karma? How Does Scav Karma Work?
Scav Karma was introduced originally in patch 12.11 after the June 2021 wipe and has been a long awaited featured by the community to help prevent Scav on Scav violence which goes against the game lore and intention of this mechanic.
To encourage player Scavs to work together to fight PMCs and scavenge any remaining loot the Scav Karma system rewards good behaviours and penalises undesirable behaviours. Ultimately these benefits can be a real asset to your overall account which has seen a dramatic shift in player behaviour since implementation.
In its current form Scav Karma and Fence Reputation are the same thing and used interchangeably throughout this guide. So if you are wondering how to check Scav Karma simply open your trader window with Fence as you would for other Tarkov traders (0.25 in the image below).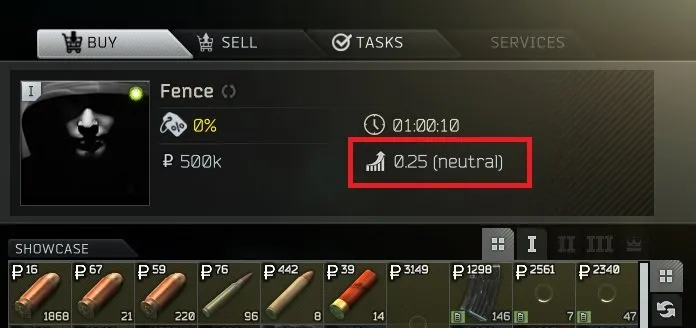 Note that in the raid ended (raid statistics) screen under the standing section you'll have a list of actions you completed during the raid along with the overall standing change for the amount gained or lost.

What Does Scav Karma Do? Fence Reputation Benefits
Increasing your Fence loyalty level comes with a number of player benefits. Currently Fence only has two loyalty levels, level 1 which players start at and max (level 2) which requires a total of 6.0 Fence rep.
The benefits of Fence loyalty scale with additional reputation points which means that players have an increasing positive benefit as their Scav karma increases above the starting amount and the opposite when below the starting reputation value.
The benefits for increasing Fence reputation (or penalties as your Fence reputation falls) are:
Scav Cooldown Timer: Significant reduction in your Scav Timer that does stack with the hideout module and towards max can allow you to use your Scav every few minutes. At severely low levels of Fence reputation players can expect over an hour between their runs which makes negative reputation significantly hard to claw your way back from.
Scav Loadout: Players can expect the quality of their Scav loadouts to significantly increase as you raise Fence reputation. This means you can expect consistent large backpacks, primary weapons with sights (no pistols), additional healing items and tier 4 armours that translates to higher survival chance.
Number of Scav Extracts: When playing as a Scav you'll have a larger number of extractions available the higher your Fence standing. This is of course a significant advantage being able to leave the map from nearly any location to escape with a high value item from your loadout or found during the raid.
Scav Case Time: Return time for all Scav Case options in your hideout is reduced which allows players to increase their profits significantly by running these more often than the average player.
Car Extraction: Cheaper extraction from the car extracts on Woods, Customs and Interchange as these are driven by Fence's connections in the game lore. For those in good standing with Fence you can expect approximately half price while his enemies will pay up to 4 times the base value. While not significant in terms of raw monetary cost the ability to use a small amount of found in raid Roubles to extract offers great flexibility.
AI Scav Attitude: For those friendly with Fence you'll be able to easily entice AI Scavs to follow you and also rush to defend the player from attack. If you find yourself with low Scav Karma expect to be attacked instantly by any AI Scav just like on your PMC character.
Boss Alliance: At the highest levels of Fence rep you'll be able to stand next to bosses and their minions without them attacking you. This makes for great screenshot opportunities and also allows you to loot any PMCs they have killed that might be unlootable otherwise due to their proximity.
Fence Prices: Receive better prices when selling to Fence and buying from him. While many might ask why sell to Fence, he can be a viable option for destroyed armours and low durability weapons that other traders will not accept. Buying from Fence does also give players the opportunity to acquire items they might not have access to otherwise  where the discount can be useful.
Insured Item Purchasing: Players can buy uninsured items from Fence (max level only, indicated by a crown icon similar to other trader levels) when they are lost in raid by PMCs. Mechanically these items are cleared every hour with items slowly accumulating over that timeframe so you'll want to regularly check what is available. While an interesting game mechanic it is unlikely a PMC would have not insured a high value item.
How To Increase Scav Karma
Players have a number of methods to gain Scav Karma to obtain the benefits above although some are significantly more effective on your path to Fence level 2 loyalty. From time to time there may also be events to give you additional opportunities or improve the gains from the below list.
Successfully Extracting As A Scav: While a small gain this is a major source for most players and rewards you for playing your Scav and successfully extracting. This was not part of the initial release of the system but added in patch 12.11.2 (August 2021).
Killing Bad Player Scavs: For players that avenge other AI or player Scavs that are killed by a player Scav you'll be rewarded. This can be difficult to do consistently in practice and relies on you chasing gunshots in raid and observing any Scav on Scav violence that occurs before avenging.
Killing PMCs: For each PMC kill you'll gain some reputation which scales higher depending on the damage to other Scavs they've done in the particular raid. Like above you'll want to follow gunshots to locate any PMCs still within a raid although they are likely to be difficult to kill given their superior loadouts.
Shared Extracts: Using one of the shared friendly Scav extracts that require a PMC and player Scav to work. These are located on Interchange (Scav Camp), Woods (Factory Gate) or Reserve (Scav Lands). Camping nearby these locations and using voice lines to indicate you are not a threat is your best option here but you can expect many failures along the way.

Protecting Bosses or Guards: If you specifically kill PMCs or other player Scavs that have shot at a boss or their guard you'll receive a healthy amount of points. If you locate a boss that is still alive when you spawn in as a Scav you should hang around the area. Shooting in the air with your weapon can be a good way to attract any PMCs or player Scavs in the area who might be tempted to fight the bosses.
Using Car Extracts: One of the easiest ways to get Fence rep up is using the available cars on Woods, Interchange and Customs. Given the large gains to reputation that are possible here all players should ensure a stack of Roubles in their Secure Container at all times (particularly if you have a Documents Case or SICC Case) and use these whenever you encounter them in raid.
Note that if players kill any Scav, boss or boss guard when playing as a player Scav they will have a reputation decrease.