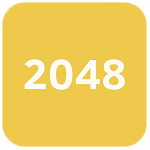 Games Finder's list of games like 2048 features other puzzle games that require you to slide blocks across the game board to achieve new high scores.
2048 emerged as one of the most popular puzzle games on Android and iOS devices after being released on mobile devices in early 2014. Your objective in this addicting puzzle game is to slide the numbered tiles on the game grid in order to combine them together and with time make the magical number of 2048. This grid is made up of a 4x4 space with the tiles sliding across in any four directions with new random tiles appearing in empty spaces with each player move.
In order to make matches the two colliding tiles must be of the same value and then will take on the number of their combined sum. This also serves as the scoring mechanism of 2048 with points awarded upon each tile combination that is made. A game in 2048 ends when players either reach a tile value of 2048 (although can continue to reach new high scores) or no longer have any legal moves available due to a cluttered game grid.
The games like 2048 featured below offer similar puzzle experiences for your mobile (iOS and Android) devices. In these titles you can compete against yourself and friends as you chase high scores in brain teasing puzzle designs.