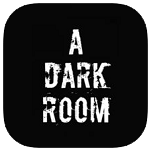 Our list of games like A Dark Room features more unique role playing games that predominately use text to tell their story.
A Dark Room has been a popular web based game since 2013 and is also available for Android and iOS users. The game is simple in design, giving players only a few ways to interact with the world at a time which expand slowly as more and more progress is made. The text based nature of the game and the interesting method of uncovering additional features has made the game a cult success.
Players start inside a cold and dark room with your only options to stoke the fire in front of you to get it roaring. Soon players will be joined by a stranger, gather a range of resources, eventually start a small village and even explore what lies outside your cold starting room. These unlocks are combined with mystery and story to encourage players forward.
The games like A Dark Room below offer a similar level of mystery and unique design. Many of these games follow a similar incremental style of gameplay while others are all about storytelling and discovery. Games featured below are available for multiple platforms including browser, iOS and Android.