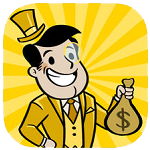 Our list of games like Adventure Capitalist provides addicting incremental games where you can constantly re-invest your funds for an endless experience.
Drawing inspiration from real world capitalism Adventure Capitalist sends you on a never ending pursuit of wealth and no matter how much you assume players will find themselves never satisfied. Featuring gameplay similar to idle clicker games players will interact with the game world to generate income and then re-invest it into assets that will generate additional revenue, allowing the cycle to repeat once more.
Taking place on Earth, the Moon and Mars Adventure Capitalist is the best capitalism simulator around taking players from humble lemonade stand to ultimate tycoon with hundreds of Megabucks (starting at 1 Decillion Dollars). With its friendly, unique and overtop approach to gameplay combining with consistent updates and a listing on the Steam Store Adventure Capitalist has reached the ranks of the top idle games.
The games like Adventure Capitalist here allow you to build up your own thriving and diversified empire in a similar fashion to Adventure Capitalist. With various platforms (browser, iOS and Android) and game settings this collection will satisfy your thirst for collecting meaningless game currency.