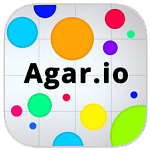 This io collection of games like Agar.io (Agario) features other simple multiplayer games where you can quickly jump into the action.
Agar.io is a unique massively multiplayer game that quickly gained vast popularity after release for its simple and accessible but addicting core gameplay loop. Expanding on this browser based success the game moved onto the mobile environment (Android and iOS) where it receives of millions of game downloads. The game was created by Matheus Valadares and uses a simple premise for its gameplay which involves players controlling a single cell in a map that is designed to resemble a scientific petri dish. Your only goal in this world is to swallow cells smaller than yourself in order to grow in size while avoiding those bigger than you.
In addition to other player cells Agar.io lets players grow their cells by consuming the pellets (food) which are randomly scattered around the map although these only improve your mass slightly compared to players. While the core gameplay elements are basic on the surface Agar.io has a number of features that add an extra layer of strategy to ensure the games longevity. This includes a team mode, experience, customised appearances, viruses and the ability to split your cells as both a powerful attack and defensive move.
The games like Agar.io that have been collected on this page offer a similar experience with free titles that let you quickly jump into a multiplayer game with simple mechanics on the surface but has a number of hidden layers for players to discover. Similar to Agar.io these options includes browser based, iOS and Android games.