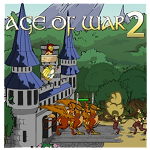 This list of games like Age of War offers strategy games that explore the advancement of the human race with lane and tower based strategy titles that requires you to carefully manage your resources for victory.
Age of War is a highly popular browser based game with tens of millions of plays across various browser game hosting websites that sees players going from humble caveman and into the future in a strategy setting. Your objective in Age of War is to destroy the enemy base while defending your own at the same time by calling into battle various units with your limited resources.
Once summoned these units will move across the screen automatically and attack any enemy units that they encounter which requires you to select appropriate counter units to your enemy. With each successful kill players earn experience and gold to advance towards the next age which unlocks new powerful units and special attacks. Each age of advancement Age of War introduces new melee, ranged, power units and defensive turret options to add new strategy depth.
The games like Age of War on this page feature similar progression based mechanics that see players advancing through different periods of human history and titles that employ a push orientated battle mechanic system with emphasis placed on free to play games (mobile and browser based).