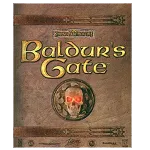 Our assortment of games like Baldur's Gate lists modern and old school fantasy RPGs where you'll get lost in a world of adventure, choice and battles.
The Baldur's Gate franchise started in 1998 and has expanded to a wealth of titles and spin off adventures in the role playing genre that have each added new mechanics and story. Based on a ruleset of Dungeons & Dragons the core series is a party based role playing game where players recruit party members to fight alongside their hero. Combat is just one element of the franchise though with an array of memorable characters and quests across the corners of the game continent.
Set in a high fantasy world this continent is home to many different races with their own lore and abilities to utilise in your party that are further refined by class selection. With constant development through experience and equipment your party will develop from a small vulnerable group to a powerhouse capable of shaping the world through the decisions you make in the various Baldur's Gate games.
The games similar to Baldur's Gate on this page focus on other deep role playing experiences where character customisation and strategy is at the heart of the core gameplay loop. In these titles you'll find a diverse roster of characters, quests, story, lore and combat as you explore a large open fantasy world.