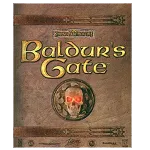 Our assortment of games like Baldur's Gate lists the best new and old fantasy RPGs where you'll get lost in a world of adventure, choice and battles.
Baldur's Gate and the Dark Alliance spin off story are some of the most well-known role playing games to grace the genre. Bringing countless fantasy elements together into a single video game and combining it with a depth of story that few games have been able to repeat it is no wonder this franchise has been able to capture so many gaming hearts.
Looking beyond the technical advancements that the franchise brought to the genre players enjoy crisp game mechanics some of which are based on the Advanced Dungeons & dragon ruleset. Gameplay revolves around creating your party of characters, exploring the game world, accomplishing side quests and engaging in combat that mixes the real time with the more strategic paused sequences.
The games similar to the Baldur's Gate franchise on this page focus on other experiences where character customisation and strategy is at the heart of the game. You'll find these titles give you a wealth of options for your party of characters or a single character while letting you freely explore large game worlds that are packed with story, combat and quests.