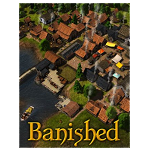 Our collection of city building strategy games like Banished has a large number of adventures that put you in control of your own village population.
Banished is a more recent inclusion in the city building genre that also offers a potent mix of strategy. Players will control a small band of exiled travellers as they decide to start their life over in a new land. With limited supplies to get you started it's your villagers that will prove to be your most important resource.
Guiding the direction of your community is the main driver in Banished with your ultimate goal to create a thriving community while you watch your population grow, work and eventually die. Population growth comes with many challenges in Banished as you fight off extreme weather, starvation, an aging population and even low morale.
In Banished you'll have no limits to the buildings that you can erect thanks to a tech tree free experience where your only limit is population and resources. These resources also double as money in the later stages of the game where you'll be able to trade with merchants.
The games like Banished on this page offer similar city building games with a focus on establishing a settlement in a medieval inspired era.