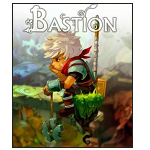 Our compilation of games like Bastion features other great action adventures with isometric camera angles, unique settings and role playing elements.
Set after an apocalyptic event players step into the shoes of the Kid as they move through a fantasy floating environment encountering enemies and collecting special shards to bring power back to the Bastion.
This requires you to fight a range of enemies and slowly restore the structures that you'll need to beat the game from the armory to improve your weapons to the shrine where you can invoke the power of a particular god. Other notable features of the game include a dynamic voiceover system and the unique 2D game with a hand painted art style.
Bastion is much simpler compared to other action role playing games by reducing your weapons down to two choices at any single time along with a handful of special attack options. Instead of this being a weakness the game has turned it into a strength by refining the mechanics it does have to make it an extremely solid RPG.
The games like Bastion features here offer similar action RPG adventures where you'll battle across various environments and improve your character in isometric style.