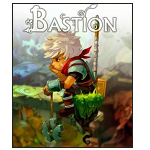 Our compilation of games like Bastion features other action adventures where you'll revive worlds from catastrophe, improve your equipment and battle foes with your hero from isometric camera angles.
Set after an apocalyptic event known as the Calamity players step into the shoes of a hero known as the Kid to revive the floating world by defeating enemies and acquiring resources necessary to revive your surroundings. With your actions having dynamic narration and a colourful hand painted art style your Bastion journey is a unique story telling experience available on PC and console platforms.
With traditional role playing elements players advance through a level based floating world with an isometric camera angle in Bastion to collect shards and cores to rebuild the world. With a diverse roster of enemies each level brings their own threats for players to overcome with their two equipped weapons that each have a special attack. Upgrading your weapons, statistics and mechanics over time through character experience and the Bastion structures it's a traditional role playing loop at the heart of your journey across varied biomes.
The games like Bastion here offer similar action RPG adventures where you'll battle across unique and diverse environments while improving your character through action based isometric combat.