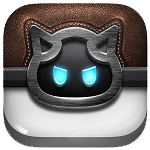 Our assortment of video games like Battle Camp details other monster based capture games and games that use match puzzle gameplay in unique ways.
Battle Camp is a unique mobile experience that brings monster capture to the MMO scene. Using your iOS or Android device you'll be thrown into a game world of monsters and puzzles as you train your team of creatures to battle other players while exploring what the various areas have to offer. PvP and monthly events are a commonplace in the world of Battle Camp.
Combat is about more than just the monsters you choose with the game adopting a puzzle game board to solve battle disputes. This gives Battle Camp an extra level of depth and strategy but also makes it approachable to a wider audience. Beyond combat the game also has "collect them all" element where you'll hunt the world for new creatures and evolve them into stronger forms. With a monster encyclopaedia well over 800 strong few games can compete on the level of scale.
The games like Battle Camp included on this list offer similar gameplay elements. In these options below you'll capture monsters, train them, battle against other players and enjoy puzzle gameplay.