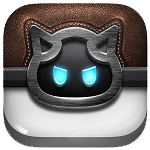 Our assortment of video games like Battle Camp features other games that utilise match puzzle gameplay in unique ways or allow you to capture monsters to create your own team.
Battle Camp offers players a MMO adventure based around monster capture on their iOS and Android device. Thrown into a game world of monsters players explore a large world while completing goals and engaging in battles. With a long list of goals scattered across the world that challenge players to defeat powerful monsters or catch specific ones you'll advance through increasingly difficult locations. PvP with other Battle Camp players and regular game events full of rewards are also commonplace in the world of Battle Camp.
Playing as a Ranger combat is a large part of the Battle Camp experience and is about more than just the monsters you have in your team. Utilising a match three puzzle game board Rangers can directly influence the battle at hand by matching coloured icons to trigger attacks that correspond to your monster elements. These elements include water, fire, leaf, rock and wind which have strengths and weaknesses to consider when designing your ideal team of monsters. With a monster encyclopaedia well over 1,000 players are spoilt for choice as they aim to collect them all.
The games like Battle Camp included on this list offer similar gameplay elements where players will capture monsters, train them for battle against other players and experience puzzle gameplay.