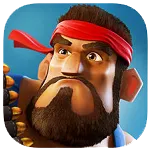 Our list of games like Boom Beach offers more free action packed strategy games for Android, iOS and PC where you'll manage a settlement and raid others with your army.
Boom Beach joined the ranks of other free to play mobile strategy games in early 2014 with a concurrent release on iOS and Android platforms. Released by Supercell after their impressive success with Clash of Clans the two games share many similarities in terms of gameplay and general design. While Clash of Clans opted for a medieval setting though Boom Beach takes players into a World War II inspired setting.
Starting with little in terms of resources and buildings players are given all the tools they need to develop a base to protect their growing resource numbers and develop troops to attack other players or advance through the single player campaign. Despite the many similarities Boom Beach does a few things differently such as how opponents are found and the beach based assault that seek to create a faster gameplay pace in general.
The games like Boom Beach featured below offer other challenging mobile strategy games where you develop a base, send your army on a raid and complete vast amounts of PvE and PvP content. These options are free to play and available for a range of platforms (iOS, Android, online and PC).