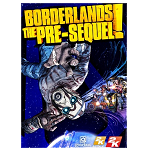 Our collection of games like Borderlands offers other titles that blend first person shooter gameplay with role playing elements for fans of the hit series.
The Borderlands series is a well-liked and critically acclaimed franchise that started in 2009. Walking a fine line between first person shooter and role playing game this potent mix has proved exceedingly popular. The games also has a distinct focus on the co-operative experience.
While the core mechanics of the game are in line with what you would expect to see in a FPS game it's the RPG features that have made the series such a success. This includes several playable classes and corresponding skill trees for players to create their own unique character.
The most important feature of the Borderlands games though is the random loot drops which are similar in design to the Diablo series. These drops apply to all character equipment in Borderlands including weapons, grenades and shields which adds an item hunt element to the gameplay. This encourages players to farm content they have already completed to enhance their strength similar to an action RPG.
The games like Borderlands that you'll find here offer a mixture of games that also blend FPS and RPG mechanics or games that are designed to be played co-operatively as you fight bosses and hunt for loot.