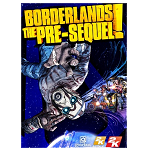 Our collection of games like Borderlands offers other titles that blend first person shooter gameplay with role playing elements for fans of the hit series.
The Borderlands series started in 2009 and explores the linked storylines of several characters and their relationship with the planet Pandora which is a planet of vast mineral wealth. Attracting large greedy interstellar corporations players find themselves in the middle of a war for resources alien technology and general control of the planet surface. Combining this setting with both first person shooter and role playing mechanics the Borderlands franchise offers a potent mix for solo and co-operative gameplay.
On the FPS side of gameplay players will find familiar weapon archetypes with pistols, sniper rifles, submachine guns, shotguns, assault rifles and rocket launchers. Uniquely though Borderlands weapons are randomly generated which alters their weapon manufacturer, damage, element and other statistics based on rarity. This pairs with the RPG features of several playable classes and corresponding skill trees for players to create their own unique character to conquer various quests and bosses.
The games like Borderlands that you'll find here offer a mixture of video games that also blend FPS and RPG mechanics together along with games that are designed to be played co-operatively as you fight bosses and hunt for loot.