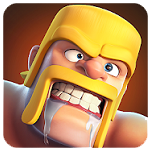 Our collection of games like Clash of Clans has iOS, Android and PC games where you'll build a base, train an army and attack other players.
Clash of Clans (CoC) took the App Store by storm when it launched in 2012, quickly gaining a huge community of gamers and holding a top position well after release. Approximately a year later the popular game was released to Android devices where it saw a similar surge of popularity. By this time the wide spread success of the game had led to the development of many games similar to Clash of Clans.
The gameplay of CoC mixes several genres together and integrates a community right into the experience, a formula that proved very popular and ideal for the mobile market. Players must use city building and careful planning to create their own base full of resource harvesting structures, resource storage and unit recruitment buildings. A focus on city layout and defensive structures to limit vulnerability against invading players is also an important consideration.
On the combat side of gameplay players must drop troops outside the borders of the opposing city in an attempt to break through the fortifications that are in place. Thanks to the large range of unit types available and potential city formations the combat component of gameplay has plenty of variety.
The games and apps like Clash of Clans below all offer a very similar experience to the popular strategy game and includes options for Mac, PC (online/browser), Android and iOS.