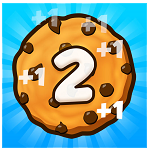 This tasty collection of tap and idle games like Cookie Clickers features more idle based titles for your browser, iOS and Android devices.
Released in 2013 Cookie Clicker is often credited as popularising the modern era idle game genre with its browser and subsequent mobile and Steam releases. Despite being far from the first title to offer this mix of tap and idle mechanics it quickly became one of the most well known for its quality mechanics and casual setting.
Like others in the genre Cookie Clicker is based on a trivial task of clicking or tapping on a large cookie that rewards additional cookies that serve as the game currency. Using this cookie currency players can purchase a wide range of upgrades that automate the acquisition of additional currency with the likes of farms and factories. Along the way players will also encounter a number of randomly spawning special effects and bonuses to help counteract the exponentially increasing cost of upgrades.
The games like Cookie Clicker listed below cover multiple platforms and provide other games where you can click endlessly or idle instead as you chase achievements and efficiency upgrades.