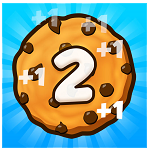 This tasty collection of tap games like Cookie Clickers features more idle games for your browser, iOS and Android.
Born in 2013 and improving on mechanics originally coined by Ian Bogost's Cow Clicker on Facebook Cookie Clicker is credited as popularising the idle game genre. This genre often involves significant idling by the player once they reach a point where the active portion of the game is no longer as rewarding as the automatic elements.
Part of this genre involves giving players a trivial task (such as clicking on a cookie in Cookie Clicker) that rewards some form of game currency. Using this currency players can purchase a wide range of upgrades that either automate this process or improve on the reward for your action orientated task.
The constant rewards provided by games with similar mechanics to Cookie Clicker have made them super addicting to some in the gaming community while others have labelled them as silly and not even classifiable as a game.
The games like Cookie Clicker listed below cover multiple platforms and provide more games where you can click endlessly or idle instead through all the available game upgrades.