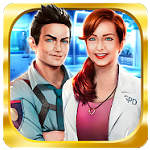 Our assembled list of games like Criminal Case offers other puzzle games that blend hidden objects and mystery in a similar manner for a range of platforms (iOS, Android and PC).
Criminal Case (or CC) is a unique detective themed adventure that originally launched on Facebook in 2012 and eventually made its way to mobile devices (iOS and Android). The game was a resounding success across all of these platforms with millions of users solving cases and hunting down hidden objects to solve hundreds of criminal cases.
Set in fictionalised version of the real world players take on the role of rookie police officer as they climb the ranks of their police department by solving cases. With your detective partner players will go through a story centric experience as they hunt down murderers, thieves and undesirable organisations by finding hidden items across the various environments and piecing them together to solve the case. During an investigation players will need to collect the evidence, perform analysis and even engage in autopsies to obtain every last clue available before selecting the person responsible for the crime from their suspect list.
The games similar to Criminal Case here offer a mixture of free, mobile, online and downloadable games that will have you at the centre of a storyline as you solve puzzles, conquer mini games and find hidden objects.