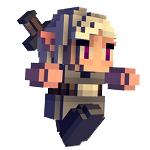 Our selection of games like Cube World features other games that combine RPG elements with procedural worlds, sandbox and cubes for solo and co-operative multiplayer adventures.
Released as part of the huge boom in voxel based procedurally generated world games Cube World like many was in a long development cycle before an eventual release in 2019. Seeking to go beyond the core sandbox and open world environments of similar games Cube World expanded to include role playing elements with classes, skills, equipment and randomly generated dungeon challenges.
With deep character creation, varied biomes and some fun toys along the way like the hang glider that aides in exploration Cube World has a mixture of sandbox and RPG mechanics. Combat of Cube World also requires players to be actively engaged with the need to aim attacks, utilise combos and dodge incoming enemy attacks to have success. Equipment crafted or found also plays a key role in this combat along with pets that you'll tame during your journey across the open world to complete quests for the various residents.
The selection of games like Cube World here focuses on other open world adventure games that blend sandbox and role playing elements together with action focused combat to deliver potentially an endless number of randomised adventures.