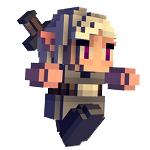 Our selection of games like Cube World features other games that combine RPG elements with procedural worlds, sandbox and cubes.
Released as part of the huge boom in voxel based procedurally generated world games Cube World quickly gained rapid interest for its take on the genre. Instead of a sole sandbox and open world environment the game expanded on the norm to include role playing elements (races, skills, experience, equipment) and randomly generated dungeons.
With deep character creation, varied biomes and some fun toys along the way (like the hang glider) Cube World's popularity definitely didn't come as a surprise as it combined the likes of Minecraft with a style from the Zelda games.
Just like its sandbox cousins exploration and crafting are very important mechanics and at the heart of every adventure. With the ability to craft all sorts of goodies from weapons and armour to food and potions there is plenty of depth to the system.
The selection of games like Cube World here focuses on other games that use a voxel approach to graphics and then combine them with role playing and sandbox elements. Procedural generation is also a common theme in the games below allowing you to potentially have an endless number of randomised adventures.