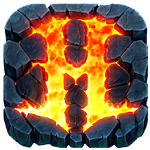 Our list of games like Deck Heroes features other high quality card collecting titles for PC, Android and iOS devices where you can create an ultimate unique deck to fight AI or other players.
Using your deck building talents to save the world Deck Heroes has players assuming the role of a young hero as they find themselves in a strange fantasy world. Praised for the likes of high quality art, strong visual effects to bring battles to life and simple core controls Deck Heroes has thrived in the competitive digital mobile card game genre following its 2014 release.
Constructing your ideal deck out of the vast array of Heroes and Creature cards players will fight their way through a high number of campaign levels, delve into the PvP or daily challenges to grow their card collection. Featuring 4 factions (Mortii, Faen, Human and Neander), millions of players and great game variety Deck Heroes offers a free to play adventure for hours of mobile content.
The games like Deck Heroes that you'll find below offer a similar blend of card collecting, deck building and strategy gameplay for PC, iOS and Android devices. In these selected games you'll make a perfect deck based on your own strategy to tackle a lengthy campaign and face off against others in the PvP arenas.