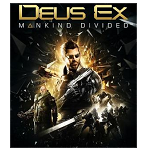 Our collection of games like Deus Ex features other titles where you drive the story and develop your own character while shooting and sneaking through the game levels.
The original Deus Ex was a classic moment in gaming and marked by fans and critics as an exceptional and genre defining game. This high quality experience has continued throughout the rest of the franchise to make it one of the best games to utilise RPG, shooter, stealth and adventure mechanics.
The games all feature a cyberpunk theme that has players exploring a future dystopian society where augmentations are becoming the norm, allowing a new breed of advanced humans to surface. The ethical questions from this sort of advancement and that of poverty are common themes to the series and promises to make you think about our own world (and future) in the process.
Gameplay in Deus Ex prides itself on choice as players have the option to stealth around the various locations, engage in direct firefights, hack terminals for information or become a social butterfly to acquire it instead. This customisation also extends to your weapons and augmentations which can significantly alter the way you approach the game.
The games like Deus Ex here offer a similar level of choice, allowing you to shape the story and your character into something you'll enjoy. In addition to the science fiction and cyberpunk themes of Deus Ex you'll find games below with fantasy, post-apocalyptic and other settings.