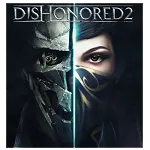 Experience more stealth and action games like Dishonored with our list of titles that offer unique skills and settings for both console and PC.
Originally launched in 2012 Dishonored combines stealth and direct combat together to create a hybrid adventure that supports multiple playstyles to achieve your objective. The franchise draws inspiration from a number of sources with a world that has elements of steampunk, retro, futuristic and fantasy that blend together for a unique setting.
To achieve this blend of gameplay players are armed with a range of magical abilities and similarly interesting weapons the game has countless ways for you to achieve your objective or assassination targets in each level. A recurring mechanic in Dishonored is the way the world adapts to your playstyle which invokes enemies to become more alert and appear in increased numbers if you've completed previous missions in a kill focused manner. Players can also upgrade their equipment as they progress to suit their intended playstyle that improve base statistics or provide additional utility.
The games like Dishonored that you'll find here also have a focus on utilising stealth mechanics and sandbox level design that encourage you to try different methods to achieve your goal.