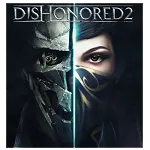 Experience more games like Dishonored with this list of stealth and action titles that have unique skills and settings for both console and PC.
Dishonored is a hit game that launched in 2012 combining stealth and more direct combat together. It pulls inspiration from steampunk games but is itself a retro futuristic and fantasy themed title, combining several themes together to create something unique.
The game focuses on stealth gameplay as you seek your revenge on those that framed you for a murder. With a range of magical abilities at your disposal and some very interesting weapons the game has countless ways for you to achieve your objective for each level.
Most unique to the game is the way it adapts to your playstyle, invoking enemies to become more alert (and in increased numbers) if you've completed previous missions in a more chaotic way. With room for both stealth and action orientated playstyles the game found appeal with a wide range of audiences.
The games like Dishonored that you'll find here also have stealth mechanics with a focus on fantasy settings. Just like Dishonored these games encourage you to discover multiple ways to achieve your end goal.