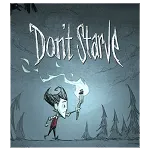 Our collection of games like Don't Starve has other randomly generated adventures that will push your survival skills to the limits in dark settings.
Don't Starve launched in 2013 and combined several genres together to create a terrifying survival experience. With sandbox, roguelike and adventure components the game proved to be a hit. With minimal instructions on how to survive and permanent death for your character the difficultly bar is one of the highest in the genre.
Gameplay in Don't Starve has you exploring random worlds which are presented in a 2.5D manner. Using a mixture of keyboard and mouse inputs you'll have to explore the world, gather resources for your survival and fend off all sorts of strange creatures. Through the later released Don't Starve Together players can also tackle this with a friend.
With day/night cycles, mental health and hunger you've got a realistic survival experience on your hands and with death in Don't Starve coming so easily (in many different ways) you have to remain just as alert for your first day as your one hundredth.
These games like Don't Starve offer other great sandbox survival games with an emphasis on harsh environments and roguelike elements. You'll find plenty of fun and difficult adventures waiting for you in the titles featured here. A number of these also include multiplayer for those seeking games like Don't Starve Together.