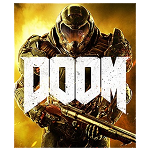 Find fast paced shooters in our list of games like Doom. These modern day shooters like the original Doom, Doom 2016 and Doom 3 are perfect options.
Doom (DOOM) has been a long running sci-fi horror FPS franchise with its first instalment in 1993. More recent additions like Doom 3 (2004) and Doom (2016) have revised this dark horror to bring it in line with modern day shooters; enhanced graphics, stronger gore, weapon variety and multiple platforms are just some such improvements.
While the story has changed slightly throughout the primary setting for the franchise is a research facility on Mars where various experiments are performed. One area of particular interest is drawing energy from Hell in order to provide energy to Earth, this experiment though allows demons to break through into the Mars facility and attack the scientists within.
It is at this point where players must step in to deal with the various demons with their large arsenal of weapons. Players are encouraged to move quickly through the game corridors which generally offer multiple paths, hiding additional ammunition or health recovery packs.
The games like Doom below are similar in terms of gameplay and theme, you'll find these games to be fast paced, brutal and full of horror for your PC, PlayStation or Xbox console.