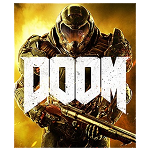 Find fast paced shooters with horror elements in our list of games like Doom. With these modern day shooters you'll find an adventure similar to the original Doom, Doom Eternal and the other titles in the Doom franchise.
Doom has been a long running sci-fi horror FPS franchise with its first instalment in 1993 making it one of the original first person shooters. While the releases in the franchise since this time have changed the mechanics, pacing, story and graphics the fundamentals of fighting demonic powers has remained the same. Later additions to the franchise in particular have pushed the game to new heights of graphics, gore and weapon variety.
Generally set within a research facility on Mars or in even the depths of Hell players are the sole human that stands between demonic evil and death to the broader human race. The limited story and mostly linear level designs of the Doom series let you focus on killing demons with your ranged and melee weapons while balancing your limited resources.
The games like Doom below are similar in terms of gameplay and theme to the franchise and you'll find these first person shooter games to be fast paced, brutal and full of horror for your PC, PlayStation or Xbox console.