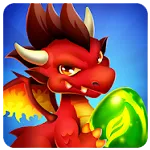 These games like Dragon City offer similar experiences where you'll breed species of dragons or other creatures with plenty of customisation.
Dragon City originally expanded rapidly as a browser based game (since retired) before expanding into mobile devices (iOS and Android) to become one of the top games based on breeding virtual creatures. With millions of players all chasing every single breed of dragon the game has maintained a large community of dragon breeders many years after initial release on Facebook.
Dragon City is a game that challenges players to breed, hatch, raise and eventually sell dragons from hundreds of variations. Along the way players will get to complete a huge range of quests, compete in tournaments against other players and customise their own piece of the floating game world. This customisation grants you the ability to create and decorate a magical floating city which is where you'll breed your dragons from their little eggs to ultimately claim the rank of Dragon Master.
The games like Dragon City collected here will let you raise all sorts of virtual creatures while also building up a city that helps you along the journey with a focus on free to play browser and mobile options.