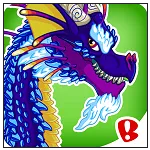 Our collection of games like DragonVale has other simulation apps (iOS/Android) and games (online) where you'll raise pets and build a city.
DragonVale is a popular free adventure that has you raising your own dragons on your iOS and Android devices. With millions of downloads on both of these platforms it is often cited as pioneering the genre and continues to draw a large audience thanks to regular updates to the gameplay.
DragonVale is all about breeding as you hatch dragons and care for them while building up the land around them. Players are also encouraged to stop by the habitats that other players have created. The interactions with others don't stop there though with dragon races handing out great prizes to the best trained dragons.
The games like DragonVale here will let you raise dragons and all sorts of other fun pets. Some of these options also have building elements that let you customise your own piece of the game world. This list includes apps for iOS and Android users but also includes browser based games that allow people to play online.