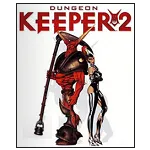 Our collection of games like Dungeon Keeper offers games that combine real time strategy, management and god game elements into a single gaming challenge.
This mixture of genres within Dungeon Keeper (DK) proved to be a hit with its original launch in 1997 and sequel in 1999 that both offered a similar dark tongue and cheek style of humour. Centred around players building a dungeon in order to attract all manner of evil creatures you'll fight through the underground against the heroes of good from the land above.
Interacting with the world through their floating hand players command their creatures to perform various tasks to achieve their objective. This sees players building rooms, researching spells and constructing traps while building up their forces of creatures. With training these creatures can unlock all their diverse abilities to help you conquer the various challenging underworld levels.
The games like Dungeon Keeper here capture the same management and strategy gameplay experience that the original two DK games offered with a focus on games where you are underground or play as evil.