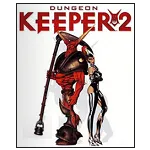 Our collection of games like Dungeon Keeper offers games that combine real time strategy, management and god game elements.
Dungeon Keeper proved to be a hit with its mixture of game genres which combined with a dark tongue and cheek style of humour. Both games in the series were developed by Bullfrog Productions and published by Electronic Arts.
In the Dungeon Keeper games players take control of their own dungeon and interact with the game through a floating hand. Players build rooms, research spells, construct traps and attract creatures to their dungeon through portals. Players then train these creatures and use them to conquer the various underworld levels that are currently under the control of good.
The games like Dungeon Keeper here try to capture the same gameplay experience that the DK series offered. This collection focuses on strategy based games with management aspects (mostly dungeon related).