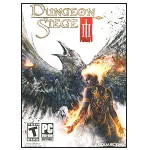 Our selection of games like Dungeon Siege has other role playing games that let you put a party together or explore as a sole hero as you hunt down randomised loot and complete quests
The Dungeon Siege series started in 2002 and delivers a party based role playing franchise that combines strong stories, deep character customisation and randomised loot together into a single adventure. The series explores the Continent of Aranna and the battle between good and evil that shapes the game world and your role in the centre of it. With a traditional fantasy world of varied races, deserts, swamps, mounts and jungles it's a diverse role playing franchise.
With each title in the series building on the core hack and slash adventure the games grew increasingly complex allowing players to craft their own ideal party of adventurers with a wide range of skills. With your wandering party players explore the open landscapes, accept quests and acquire strength through experience and randomised equipment. While primarily a single player adventure the Dungeon Siege series has constantly offered a multiplayer component for co-operative gameplay.
The games like Dungeon Siege here focus on other party based role playing games that give you plenty of customisation over a team of characters or allow you to play through a campaign with friends.