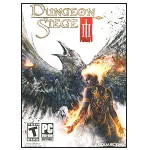 Our selection of games like Dungeon Siege has other role playing games that let you put a party together and hunt down randomised loot.
The Dungeon Siege series started in 2002 and delivers a party based role playing franchise that combines strong stories, deep character customisation and randomised loot together. The series explores the Continent of Aranna and the battle between good and evil that shapes the game world and your role in the centre of it.
Evolving from what was a simple hack and slash adventure with many automated features and limited customisation, the later games in the series provided a large amount of depth to players that would allow them to craft a party of adventurers using a wide range of skills.
This party could also include pets that would grow based on the items fed to them further increasing overall customisation. Alternatively players can call on their friends to command a character in the co-operative component of the game.
The games like Dungeon Siege here focus on other party based role playing games that give you plenty of customisation over a team of characters and pets. You'll go on great adventures with this party as you shape their development and equipment through quests and exploration.