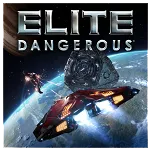 Enjoy these games like Elite Dangerous, explore universes, engage in space combat and become the master of trade in these single and multiplayer games.
Elite Dangerous originally graced the video game industry in 1984. The more recent game (released in 2014) is a high quality massively multiplayer space title that emphasis open world adventure across an entire galaxy. The game is a ground up experience with players starting with only a small stockpile of credits and basic ship. From here the galaxy is your oyster as players choose the path they want to carve out in order to reach game skill, reputation, power and wealth.
The backdrop for this impressive adventure is the Milky Way's 400 billion star systems and the futuristic setting of 3301. As the game is entirely free of direction players are encouraged to create their own interstellar trail. This also ties into the world around the player with your actions have real impact on the galactic powers in control of the various systems.
The games like Elite Dangerous here are similar to both the original and the 2014 release which ensures a mixture of single player and multiplayer adventures. In these space themed games players are free to engage in combat, trade and exploration as they create a name for themselves in a vast galaxy.