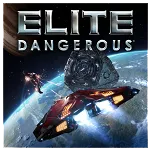 In these games like Elite Dangerous gamers will explore vast universes, engage in space combat and become the master of trade in these single and multiplayer games where the galaxy is yours to conquer.
Elite Dangerous originally launched in 1984 with a number of releases since that have expanded the franchise with new adventures and mechanics which was made possible with the growth of gaming hardware. At the core of this space adventure is an emphasis on open world adventure with sandbox mechanics that allow you to make your own story of skill, reputation, power and wealth. Originally a single player adventure this evolution of the Elite Dangerous series has seen the franchise transition to include multiplayer gameplay.
The depth and breadth of the universe for this adventure has also evolved from from small to a realistic representation of the Milky Way complete with billions of star systems that is set over a thousand years in the future. Other mechanics that have been introduced or enhanced over time to the Elite Dangerous franchise include mining, trading, piracy, factions, role playing and deep ship customisation through multiple modules.
The games like Elite Dangerous here are similar to both the original single player adventure and the more recent MMO style releases of the franchise (Elite Dangerous 2014). In these space themed games players are free to engage in combat, trade and exploration as they create a name for themselves in a vast galaxy.