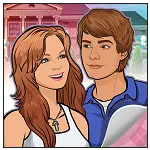 Our assembled list of games like Episode - Choose Your Story features more interactive titles that let you make the key decisions for PC, iOS and Android.
Episode (Episode – Choose Your Story) is a popular app for both Android and iOS devices that allows you to be part of an interactive story line. With a large collection of short stories in multiple genres there is something for everyone. From stories on the college campus to proposals, paths to stardom and fantasy adventures the series of illustrative adventures on the Episode app are constantly changing.
Depending on the story players will be able to play as multiple characters, customise their visual appearance and alter it further with a range of clothing options. One thing that is consistent between the stories though is the ability to choose the direction the story takes with multiple choices available to players from beginning to end it is easy to have two completely separate endings from different playthroughs.
The popularity of Episode stems not only from the large list of genres and the constantly changing stories but also the community which is encouraged to write their own stories for others to experience.
If you love constantly having a new adventure before you and want to be making the decisions behind that adventure this list of other games like Episode – Choose Your Story for various platforms will serve you well.