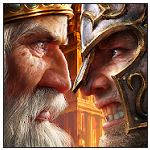 Our collection of games like Evony offers a large collection of browser based and mobile strategy games to help you find your first or next MMORTS title.
Evony is an online strategy game that takes place in a persistent game world with a Medieval level of technology. Players take on leadership of their own city and manage gathering resources, recruiting troops and battling against other cities while improving your own city power. With new players temporarily safe from attack they have some time to build up their forces and make allies before being thrown into the open strategy world.
The majority of gameplay in Evony revolves around collecting resources (gold, lumber, stone, iron and food) then constructing buildings to unlock additional technologies and units for your army. The strategy extends further in Evony though with heroes impacting your cities strengths and alliances with other players which both require careful maintenance.
The games like Evony below offer a mixture of mobile and online experiences in the MMORTS genre with a focus on those that have a similar medieval fantasy setting.