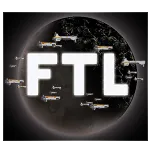 Our list of games like FTL (Faster Than Light) offers other experiences that use a roguelike mechanic or space setting as their main selling point.
Faster Than Light (FTL) launched in late 2012 on PC and eventually made its way to iOS devices with an advanced edition which boosted gameplay considerably (and was included as a free update for PC). In FTL players are challenged to take their spaceship and crew from one side of the galaxy to the other on a quest of great importance.
Along the way players will have to upgrade their ship, recruit crew members and fight off a variety of hostile parties. The game is randomly generated to ensure each new adventure is different and that you never know what awaits you on your next space jump.
A core feature of Faster Than Light is the permanent death mechanic that gives players only a single life to complete their goal. Like most games with permadeath players will have to start from the very beginning if they find their ship destroyed.
The games like FTL that are on this page focus on other games with permadeath mechanics. While an effort has been made to include other space themed games this collection here covers multiple themes and gaming genres to provide more options and greater variety.