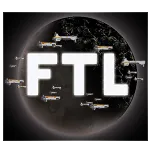 Our list of games like FTL: Faster Than Light offers other experiences that use a roguelike mechanic or space setting as their main game mechanic.
FTL: Faster Than Light launched in late 2012 on PC and eventually made its way to iOS devices with an advanced game edition that expanded the core content. Selecting from one of several unlockable ship and crew configurations players embark on a journey of random events. Your mission in FTL is to take your spaceship and crew from one side of the galaxy to the other on a quest of great importance as you fight for the Galactic Federation against the Rebellion and ultimately defeat the Rebel Flagship in one on one ship combat.
Throughout this journey players will have to upgrade their ship, recruit crew members and fight off a variety of hostile parties using the weapons and ship systems they can purchase or scavenge. Due to the random generation of FTL: Faster Than Light no two adventures are the same and require players to adjust to their situation in order to succeed. With the threat of permanent death for failure players must carefully consider their decisions and take combat slowly to maximise their chances of survival.
The games like FTL that are on this page focus on other games with permadeath mechanics and particularly space themes where you'll have to utilise the random resources you acquire along the way.