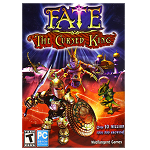 This compilation of role playing games like Fate offers dungeon crawling adventures where you'll fight monsters, collect loot and create a unique character.
Fate launched in 2005 and elected to draw heavily from games previously introduced in the genre. Fate turned this into a strength though be creating a dungeon crawler that used other game formulas extensively for the basic mechanics but refined them while also experimenting with some new mechanics that were innovative at the time.
This includes mechanics like pets, fishing and character retirement with were later used in other action role playing games to expand on the traditional core mechanics.
In regards to gameplay Fate offers everything that the genre has become known for with players adventuring into the depths of a deep dungeon where each floor becomes progressively difficult. Along the way quests are completed, experience is gained and loot is acquired to allow the player to continually advance against ever increasing enemies.
The adventures like Fate that await you on the list below offer everything you could want in a dungeon crawling adventure. Create your unique character from many class choices, gear up and venture forward against immense monster odds.