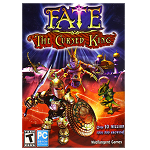 This compilation of role playing games like Fate offers dungeon crawling adventures where you'll fight monsters, collect loot and create a unique character to complete quests.
The Fate franchise started in 2005 with a number of subsequent releases that further expanded on the core action RPG formula. While simple in comparison to modern games in the genre Fate was a popular addition at the time of its release and included several unique mechanics. This included features like pets, fishing and character retirement alongside the core dungeon crawling adventure.
Set primarily around a town location known as the Grove players take on main and side quest lines that require them to crawl deeper into the random dungeon levels below. To tackle the increasing difficulty of each floor players will gain both experience and loot to improve their Fate character while seeking to avoid the ultimate fate of death.
The action role playing games like Fate that await you on the list below offer everything you could want in a quest based dungeon crawling adventure. Create your unique character from many class choices, gear up and venture forward against immense monster odds.