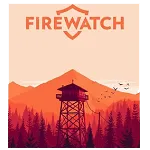 Our selection of games like Firewatch has similar interactive adventures where you explore and interact with your surroundings while uncovering the mystery within.
Firewatch takes players into the past (1989) as a young Henry who works as a fire lookout in the wilderness of Wyoming. Each day Henry's job is to look out from atop the mountain for signs of smoke and thus keep the wilderness below safe from the deadly flames of fire that could quickly engulf the area.
On one particularly hot and dry summer day Henry notices something strange in the forest that beckons him to explore the unknown environment and determine what hides. Armed with your trusty handheld radio with your supervisor Deliah on the other side you'll encounter strange things and converse with your single link to the outside.
Firewatch is a game about discovery and clue collection with player choice through dialogue options directing the story down a particular path and altering how things unfold. While adventuring new locations will become available to players which is enhanced with the day-night cycles creating a great sense of realism.
The games like Firewatch found below ensure more great adventures in a variety of settings. These games put players in the driving seat as you choose dialogue, make key decisions and uncover what the story hides beneath the game surface.