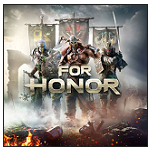 Our curated list of games like For Honor features more hack and slash fighting games that focus on skills and physics to recreate a realistic hand to hand fighting experience.
Developed for Windows, Xbox One and PlayStation 4 by Ubisoft the game centres around close quarters realistic combat between knights, vikings and samurai all controlled through a third person perspective.
Action is at the heart of For Honor with the fantasy and medieval setting providing an appropriate game backdrop. Joining the ranks of The Chosen Samurai, The Warborn Vikings and The Iron Legion Knights players will command their own samurai, viking and knight respectively. Within each faction there are a number of further classes that alter gameplay and strategy.
From the balanced Vanguard class which has equal offensive and defensive capabilities to the Assassin who focuses on fast and swift attacks to the Heavies who can take a beating. For Honor also incorporates several hybrid classes that have more unique and uncommon battle flows. Combat aims to be highly tactical in comparison to previous titles with duels placing importance on the likes of stance, weapon position and parrying would be attacks by reacting to indicators.
Throughout the single player game players can explore the variety of weapons, skills and styles while gaining Feats which serve as additional perks to help players combat the large number of enemy AI with the likes of arrows, catapults and healing abilities. Some of which also makes an appearance in the multiplayer portion of the game.
The games like For Honor here offer a similar focus on realistic combat where you'll slice and hack AI controlled opponents and human ones.