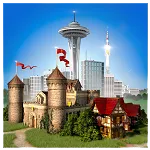 Our games like Forge of Empires list features great online strategy games that challenge you to build your own empire in a historical setting and competitive world.
Forge of Empires was released in 2012 by InnoGames and while it was initially a browser based adventure it soon expanded to the mobile strategy realm with iOS and Android releases. Leveraging the success and lessons learned from their vast array of previous strategy themed games (such as Tribal Wars and Grepolis) InnoGames packed a number of mechanics into a single offering with Forge of Empires.
Set in a historical period of time Forge of Empires challenges players to transform their civilisation from Stone Age and beyond which has players watch a few small huts in the Stone Age quickly transform into an advanced and thriving civilisation that is capable of Space Age exploration. In time you'll have all manner of resource generating buildings that provide coins, supplies and goods to keep the cycle of progression going. Players also have full control over the military, research and happiness of their population which ties in closely to the various story, side and recurring quest challenges that Forge of Empires offers.
The MMO strategy games like Forge of Empires below focus on other era themed games that span stone to space age where you can create your own empire and progress through technology trees while leveraging your military to fight other players.