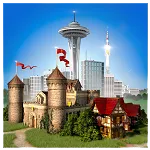 Our games like Forge of Empires list features great online strategy games that challenge you to build your own empire in a vibrant and competitive world.
Forge of Empires is one of the leaders in the online strategy realm and was released by InnoGames in 2012. Leveraging off the success and lessons learned from their previous strategy games (such as Tribal Wars and Grespolis) InnoGames were able to combine the best strategy features into a single offering.
What separates Forge of Empires from the many other strategy alternatives out there is the level of detail in your empire. Players will be able to watch a few small huts in the Stone Age quickly transform into an advanced and thriving civilization. The hexagon style turn based combat is also a deviation from similar games and makes Forge of Empires combat unique and more engaging.
The MMO strategy games like Forge of Empires that are below focus on other medieval themed games where you can create your own empire while fighting thousands of other players online.