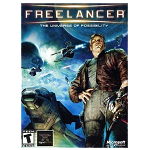 Create your own space adventure with our games like Freelancer list that has a wealth of space based simulation titles for fans of the space sandbox genre.
Freelancer was released in 2003 with a unique space adventure that allows players to craft their own story as a solo spacecraft pilot in a vast galaxy. Playing as Edison Trent the single player experience of Freelancer is driven by players as they fight against an alien race in the Sirius sector and combine it with a range of side activities to improve your wealth and in turn chances of survival.
This sees players in Freelancer engaging in space combat, trading, bounty hunting and spacecraft dogfights with all of these game systems offering plenty of depth to explore alongside your galaxy exploration. Ultimately Freelancer becomes a fun almost endless cycle of player progression as you improve your wealth wealth to improve your ship which makes you capable of exploring new areas of the galaxy.
The games like Freelancer here all feature similar space settings that allow players to either engage in ship to ship combat or trade their way to riches and everything in between.