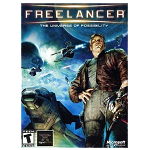 Looking to relive the Freelancer experience? Our games like Freelancer list has other space based simulation games for fans of the classic space game.
Freelancer was released in 2003 and become somewhat of a cult classic with its unique take on the space genre by incorporating a number of features that had never been attempted let alone combined together in a single game before. The game was intended as a sequel to Starlancer but is a much fuller gaming experience in comparison.
The core gameplay elements of Freelancer include trading and combat (within a space setting). Both of these game systems have a great amount of depth that can take time to master which promises players a real challenge. Players step into the shoes of their own spacecraft as they explore a galaxy of star systems. This exploration leads to missions, dogfights and trading opportunities for the player with a number of ways to approach each encounter.
Ultimately Freelancer becomes an endless (but very fun) cycle of the player increasing their wealth to improve their ship which in turn opens up new areas of the galaxy and options for gameplay. Beyond the single player experience the game also includes multiplayer support for over 100 players with some private servers still hosted a decade after the original game release.
The games like Freelancer here all feature space settings that allow players to either engage in ship to ship combat or trade their way to riches.