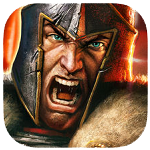 This assembled list of games Game of War features the very best alternatives in the strategy genre for your browser, iOS and Android devices.
Game of War is one of top grossing freemium apps that has captivated an audience of millions on iOS and Android, standing alongside the leaders in this saturated strategy space. Challenging players to build a lasting empire in an online environment that encourages players to raid each other relentlessly it's a game that attracts the casual and hardcore player alike.
Gameplay revolves around creating your empire with various buildings, training up an array of troops and then marching on your enemy to push your dominance and raid for resources. Along the way you'll make enemies and friends as alliances are made with the aide of the robust chat system.
Game of War isn't immune to waiting times though but thanks to the strong gameplay fundamentals elsewhere in the game it's been able to garner an audience where others have failed.
The games like Game of War on this page offer other strategy based games that you can play in your browser or on a mobile device. You'll find similar mechanics to Game of War with these games revolving around the building of an empire, raising an army and teaming up with other players.