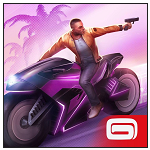 Explore more open worlds on your mobile device with our list of games like Gangstar Vegas, featuring free and paid free roam games for iOS and Android.
Marking one of Gameloft's most popular mobile titles, Gangstar Vegas joined a long list of Gangstar games (Crime City, Kings of L.A., West Coast Hustle, Miami, Rio and City) on mobile devices. The franchise known for its sandbox style gameplay on mobile devices lets players explore various cities through third person while also driving cars, completing missions and taking out potential rivals.
While all of the Gangstar titles offer similar gameplay Vegas expanded the game world dramatically, making it the largest one yet as players followed along with the story of professional MMO fighter Jason Malone. Additionally players can engage in street races, acquire property, enter fighting tournaments, rob banks and participate in various Las Vegas inspired mini-games. After originally launching as a paid title Gangstar Vegas is now free to play.
The games like Gangstar Vegas collated below offer other free roam gameplay with a focus on mobile devices (iOS and Android). These titles allow you to explore the game world at your own pace as you complete the main mission and various side activities as you see fit. Given the free price tag attached to Gangstar Vegas emphasis has been given to other free to play open world titles while games within the Gangstar series have been excluded.