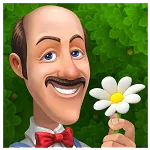 This list of games like Gardenscapes features other unique puzzle games that have you completing puzzles while you revive or discover a larger game world.
The Gardenscapes series of games uses both hidden object puzzles or match three puzzles depending on the platform and game in the franchise. Using both of these core mechanics in interesting ways though has remained the staple of the franchise where your hard work ties closely with tangible benefits in the way of customisable gardens and mansions that you turn from rundown to booming attractions.
In addition to this visual progression Gardenscapes is all about telling a story as you advance from level to level you'll meet interesting characters that support the beautifully animated adventure. Given this feature list Gardenscapes has attracted traditional puzzle players who are now wanting an extra level of story and progression outside simply racking up puzzle completion numbers.
The games like Gardenscapes below offer you puzzle based alternatives on your mobile device (iOS and Android) or PC. While you'll solve puzzles as the core mechanic like in Gardenscapes you'll see this convert directly into a persistent storyline or an overworld of unlockable items.