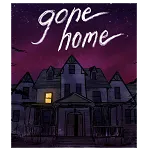 This compilation of games like Gone Home features exploration titles where your objective is to take in the surroundings rather than solve puzzles or combat.
Gone Home steps back into the past with a 1995 setting. Players arrive home after spending a year abroad, walking into home you expect your family to be at home and ready to see you. Instead all players get is an eerie silence to greet them.
Where is your family and what happened to them? That is the story of Gone Home. Step into the shoes of Kaitlin as you use a first person perspective to explore the house and investigate individual items.
What Gone Home lacks in combat and puzzles it makes up for in exploration and discovery as players explore the familiar home. Every detail can be examined and not only do they slowly piece a puzzle together they also contain a number of references to a decade long past. Accordingly this lets players of Gone Home set their own pace of exploration and freely explore most of the rooms as they see fit.
The games like Gone Home below have a similar focus on exploration and discovery rather than puzzles or combat. The titles here either have none of these features or use them sparingly, instead allowing the player to unlock mystery and story through other means.