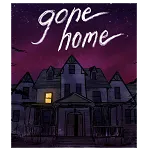 This compilation of games like Gone Home features exploration walking simulator titles where your objective focuses on discovery and story telling rather than combat mechanics.
Gone Home steps back into the past with a 1995 setting where players arrive home to the family home in rural Oregon after spending a year abroad. Instead of finding your family though players step into an empty house with an eerie silence that encourages players to explore around the familiar home for clues. Playing as the 21 year old Kaitlin (Katie) in a first person perspective you'll walk around the house investigating objects.
While Gone Home lacks combat or puzzle mechanics it makes up for it by providing a deep story of discovery with a wealth of items to uncover and interact with. Each of these interactions provide additional background to Katie's life and advance the story one piece at a time which unlocks other parts of the house.
The games like Gone Home below offer a similar adventure of exploration and discovery with a focus on other realistic game settings where you'll walk through a mysterious location to unlock clues and a deeper story.