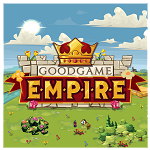 Discover other high quality MMO strategy games like Goodgame Empire with our list ideal for browser, iOS and Android titles with a medieval theme.
Goodgame Empire (often just Empire) is one of the leading titles from the Goodgame development team. Focusing on a medieval era and robust strategy gameplay Empire has become a popular option for both browser and mobile players. Following a typical progression path for the genre players taking a small piece of land on the world map and transforming it into a mighty kingdom. This is achieved slowly overtime through buildings, units and raids to fund this expansion with plenty of decision points for players.
Players can also team up with others to form alliances to plot their attacks or instead fight against the AI controlled empires. A key mechanic to these raids is the players ability to direct their forces onto the field of battle rather than relying solely on strength of numbers like they might in other games. Empire also offers countless upgradeable buildings, and unit variety to ensure there is no shortage of things to spend your produced or raided resources on.
The strategy games like Goodgame Empire below offer a similar level of variety in units and buildings with an emphasis on medieval themes and strategic combat. Just like Empire these titles can be played within your browser or on your mobile (iOS and Android) device.