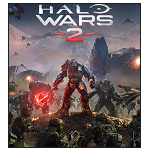 Our selection of RTS games like Halo Wars offers other sci-fi themed strategy games for various platforms where you'll command futuristic units across space.
Halo Wars is an epic real time strategy video game based on the popular first person sci-fi shooter that launched on the Xbox 360 during 2009 and was one of the few RTS experiences on the console platform at the time. Opting to take the franchise back decades before the original Halo game players will command the human war machines in a desperate battle for survival and eventually conquest over the Covenant forces.
Players command their troops with a birds eye view of the battlefield in order to squash the varied alien Covenant units. As a console game the experience of Halo Wars aimed to be as streamlined as possible and did so by putting the focus on combat action rather than resource management. Combined with a well-balanced challenge that relied on a traditional rock-paper-scissors philosophy and simplified controls designed for a controller the game was a success across Halo and non-Halo fans alike.
This collection of games like Halo Wars focuses on strategy experiences in a science fiction setting with particular emphasis on those that mix plenty of action into a strategic framework and are available on consoles.