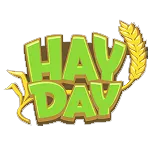 Our page has a number of farm games like Hay Day where you'll plant crops, raise animals and decorate your own virtual farm to share with friends.
Hay Day is one of the popular free farming games available for players on iOS and Android devices and draws inspiration from games before it (such as FarmVille) to put players in charge of their own farm after their uncle is no longer able to work on the farm anymore. With this new found responsibility it is up to the player to take this simple area of land and turn it into a farm you can be proud to call your own.
With consistent updates to game content providing a never ending farm experience that spans crops, animals, fishing, pets, products and even chat the experience of Hay Day is one of the best on offer in the saturated farming simulation niche and has remained popular for a number of years because of this.
The games like Hay Day on this page offer a similar farming experience allowing you to create and run your own farm as you customise it heavily with your choice of plants, animals and farm decorations. The list below includes mobile (iOS/Android), PC and online farm games with a focus on free to play options.