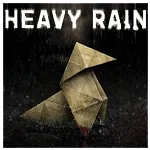 Our games like Heavy Rain page offers other interactive adventures that have a thriller or crime atmosphere. The list includes games for PC, PS and Xbox.
Heavy Rain is a highly praised PS3 exclusive title with thriller and drama themes. In Heavy Rain players assume the role of four different characters throughout their adventure and focuses on a missing child by the name of Shaun. The game launched in 2010 and belongs to the interactive genre which has become increasingly popular in recent years. This genre is generally defined by both how the game was made and the role the player has within the game.
Gameplay in Heavy Rain is fairly simple and sends players on a mostly linear path through the main story line. Players interact with the environment around them and can make decisions at key story intervals in order to shape the direction that the story takes. Ultimately the decisions of the player can change the ending that they receive. Quick time events will also occur from time to time which require the player to complete certain actions.
The games like Heavy Rain that you will find below also belong to the interactive genre and feature similar gameplay to Heavy Rain. In the titles below you'll find simple gameplay which places emphasis on enjoying and shaping the story.