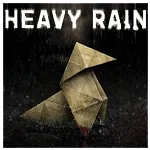 Our games like Heavy Rain page offers other interactive story adventures that have a thriller or crime atmosphere for PC, PlayStation and Xbox consoles.
Originally a PlayStation 3 exclusive released in 2010 Heavy Rain is a critically acclaimed story based video game. Assuming the role of four different characters during this interactive experience the story of Heavy Rain centres around a missing child by the name of Shaun. With only a few days to find Shaun from his serial killer kidnapper players embark on a number of tests to acquire information necessary to locate him.
As an interactive based adventure gameplay in Heavy Rain is fairly simple and sends players on a structured path through the main story line and concludes with various endings based on your decisions. With the risk of character death based on your actions you'll regularly be on edge as you progress slowly through quick time events and decision points of Heavy Rain. In between these major events players are free to explore the chapter specific surroundings and interactive with the environment or change the difficulty setting.
The games like Heavy Rain that you will find below also belong to the interactive genre and feature similar gameplay and themes to Heavy Rain with murder mystery, drama and thriller stories.